If you're searching for a fun and unique way to celebrate special occasions, look no further than Yard deSIGNS! Our fun and colorful surprise yard cards add a perfect dose of personality to any yard, making them the perfect way to celebrate birthdays, graduations, weddings, and more. They're like personalized banners for the lawn that add that perfect pop of pizzazz to any event. Not only are surprise yard cards easy to customize to your heart's content, but they're also affordable and make a lasting impression on guests. In this blog, we'll walk you through everything you need to know about surprise yard cards, from some of the most popular reasons to order, the benefits of ordering a sign for your next event or celebration, and how to order your surprise sign. Let's get started!
Everything You Need to Know About Surprise Yard Cards!
Surprise Yard cards are a fantastic way to add life to your next big celebration. They are eye-catching, customizable, and a ton of fun! Whether you're celebrating a milestone birthday, graduation, or retirement, Surprise yard cards are a unique way to showcase your creativity and commemorate your special occasion. In this blog post, we'll dive into everything you need to know about yard cards.
What are Surprise Yard Cards?
Simply put, surprise yard cards are custom lettering and graphics in a broad array of colors and designs that congratulate someone or express a joyful message! They're placed in the yard or on a property, allowing anyone passing by to see them. These fun surprise signs come in different shapes, sizes, colors, and designs, and they're hugely customizable. These signs feature various letters, numbers, and symbols, forming a message or a graphic entirely up to the creator's imagination.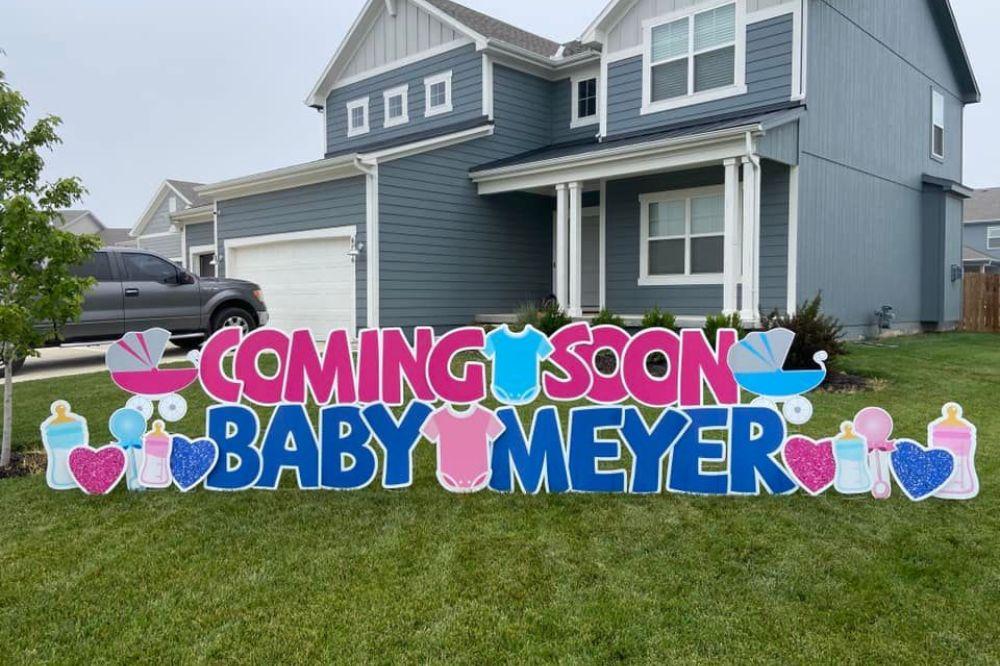 Events to Celebrate with Surprise Yard Cards
Surprise yard cards by Yard deSIGNS offer a unique way to celebrate various events, both big and small. Below are some of the most popular occasions to celebrate:
Birthday Surprise Yard Cards: Milestone birthdays, such as Sweet 16, 21, 30, 40, golden birthday, and so on, are always great to celebrate.
Graduation Surprise Yard Cards: Whether it's high school or college, graduation is a massive milestone worth celebrating.
Anniversaries and Weddings: Celebrate a long-term relationship with a personalized and romantic surprise yard card.
Welcome Home and Baby Shower Surprise Yard Cards: Whether you are welcoming home a new baby or a loved one who has been away for too long, such as our brave military men and women, or your kiddos who have been away at college, our just because package is perfect for your celebration.
Business Events and Fundraisers: Guide the way for your guests to your next business event or fundraiser with a bright and inspiring yard card.
School Events: Whether your school is gearing up for homecoming, state finals, or welcoming students to the new year, a school yard card is sure to bring smiles.
Holidays: Add some festive spirit with colorful and themed signs for the holidays!
The possibilities are endless! Whatever the occasion, a surprise yard card from Yard deSIGNS can help make the day unforgettable.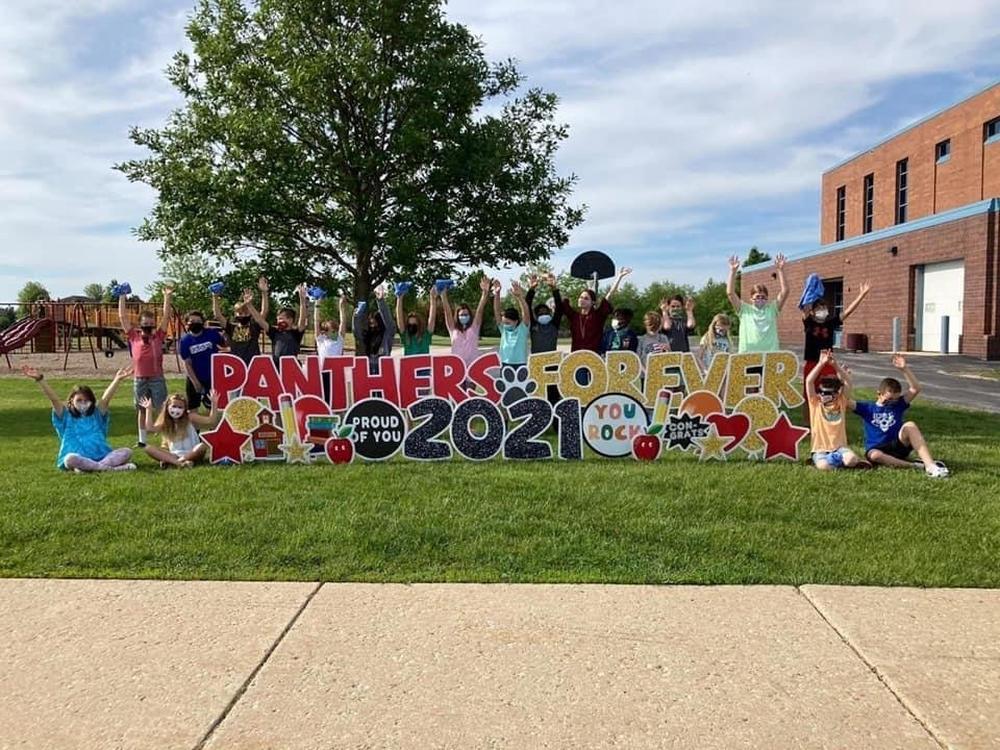 The Benefits of Renting Surprise Yard Cards for Your Celebration
There are so many benefits to ordering a custom card for your yard! Our favorite benefit is the happiness they bring to everyone that sees them!
Affordable
Renting surprise yard cards is an affordable way to celebrate any event in. Purchasing expensive decorations that will only be used once can set you back a lot of bucks. With surprise yard cards, you can achieve the same message and decorative effect without breaking the bank. Renting surprise yard cards is an excellent option for those who want to celebrate in style without spending too much.
Customizable
One of the best things about renting surprise yard cards is that they're customizable according to your preferences. You can choose your message, colors, design, and graphics; Yard deSIGNS will bring them to life. 
Stress-Free Setup
Another benefit of renting surprise yard cards is that they're stress-free for the individual placing the order. After ordering your surprise yard card from Yard deSIGNS, we will deliver it to your location at the designated time and set up the sign to perfection. We will then return to retrieve the surprise yard card when the time is over. Check out what some of our customers have said about us by visiting our Google Reviews!
Perfect for Any Occasion
These awesome signs aren't just for birthdays or graduations. You can rent them for a wide range of occasions, including holidays, welcoming new babies, or even congratulating friends or family on a new job or promotion. They provide a fun and creative way to make any event unique and memorable.
Wide Range of Design Options
From letter colors, patterns, and graphics, we have a wide range of options, making surprise yard cards perfect for any celebration. 
Ordering your Customized Surprise Yard Card from Yard deSIGNS
Now that you understand what surprise yard cards are and the types of events to celebrate with them, it's time to design your customized sign! Here's how it works:
Visit Yard deSIGNS Website: Yard deSIGNS has locations across the United States to meet your surprise yard card needs! Simply visit our website at www.theyarddesigns.com and enter the zip code where you want your sign set up to locate a sign slinger near you! If we do not have a Yard deSIGNS location in your area, consider becoming a deSIGNEE to help spread happiness in your community!
Select your deSIGN type: Choose from birthday signs, just-because signs, graduation signs, school signs, or holiday signs! Check out the Gallery for inspiration if you're unsure what you are going for.
Select your event date: When ordering a surprise yard card, select your desired event date. If the date is unavailable, we are sold out in your area for that day. It's important to note for orders requested 48 hours from the desired display date, there is an automatic $25.00 RUSH FEE added to your invoice.
Location and recipient information: Next, you will enter the location where the surprise yard card will be set up, along with the lucky recipient's name(s) and age, if applicable. 
Choose your greeting, colors, patterns, and graphics: You can choose your preferred message on all our deSIGNs, except for our just-because package. If you are ordering a just-because package, enter the custom message to be displayed. Don't worry; you're entirely in control. Now for the fun part! Choose from the available colors, patterns, and graphics to customize your deSIGN.
All of our signs come with coordinating graphics, such as balloons, stars, party hats, presents, cakes, and others may also be included if applicable. In addition, we ask that you choose 5 to 10 graphics to help customize your display and provide us with interests, hobbies, degrees, or other pertinent information to help us make your surprise yard card Amazing!  
Extra options: Some of our sign slingers may have additional options for you to choose from, such as frames, flamingos, extra-large numbers for birthdays, and more! You can also add extra display days to your existing 24-hour display.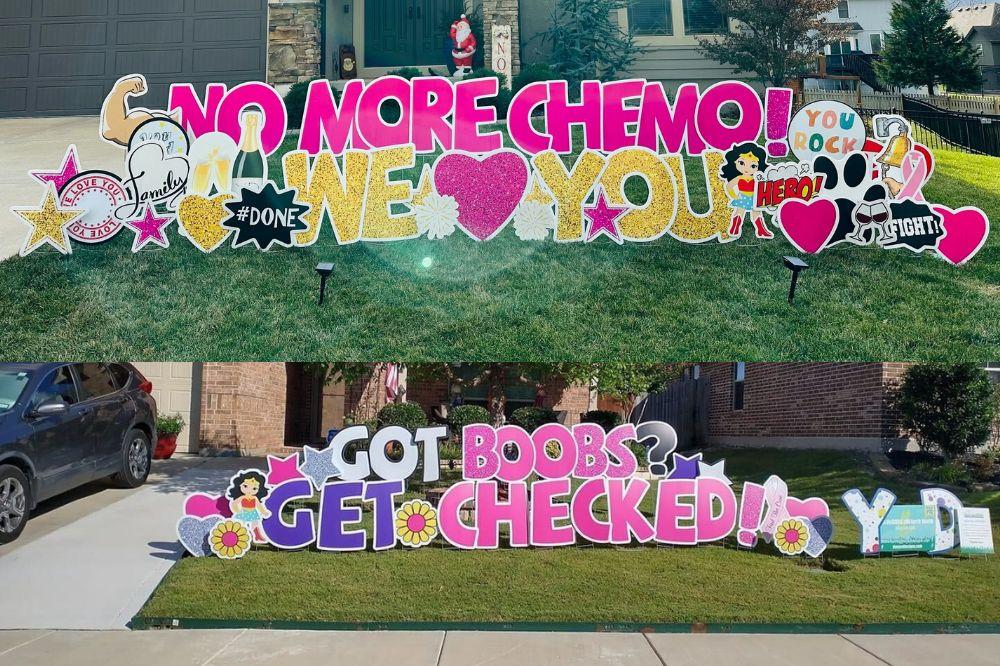 Order Your Surprise Yard Card from Yard deSIGNS Today!
Surprise yard cards are a fantastic way to add flair and personality to any event. We hope our blog provided you with helpful information on how you can customize your sign, its benefits, and how to order them. Remember, when it comes to surprise yard card design, the possibilities are endless! So contact yard deSIGNS today, get creative, and place your order today!