With the school year starting soon, your youngster will likely be excited—and a little worried. So make the transition from summer to school more manageable with our top recommendations on getting ready to head back-to-school.
Prepare Before
It's Time to Head Back-to-School
Back-to-school season is upon us and our kiddos, possibly reluctant for the summer to end, need time to get back into the swing of things before the first day of school. So now is a perfect time to start getting prepared. 
Reach out to School Pals
Connecting with pals from the prior school year might help youngsters get more comfortable and eager to return to school. If this is your child's first year of school or moving to a new place and doesn't know anybody their age, meet with your local HOA for back-to-school events or check into local groups in the area to meet kids their age before school starts. A back-to-school party may be fun to kick off the year to meet current friends and new classmates. If you're planning a party, make it extra special with fun decorations, yummy snacks, and a custom back-to-school yard sign. Of course, no yard sign is complete without a selfie frame so your youngsters can capture the moment with their friends!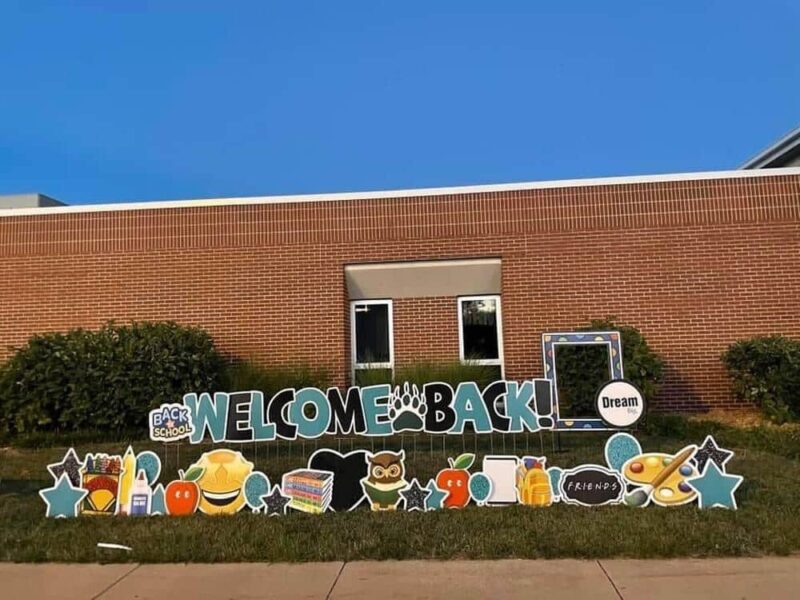 Visit the School
Attending your child's back-to-school night or an open house is a terrific way to introduce them to the school they will be attending or refamiliarize them with the school and meet their new teachers. In addition, meeting kids that will be in their class and their teachers can help relieve any anxiety they may have before heading back-to-school. 
Jump Start Your Routine
Experts recommend easing back into a school routine. Start end-of-day and morning rituals with your children about a week before school starts. Reestablish a bedtime by setting an alarm clock for the morning. Start a week before the start of school and adjust the time to get earlier each day till you reach the right wake-up time for the first day of school. Establishing your morning routine ahead of time can also help everyone prepare for the school year ahead. Your practice run might include preparing breakfast, packing school lunches, and picking out school clothes. If your kids are going to ride the bus, consider going to their bus stop a few days before school starts at their departure time to get a sense of timing. Keep in mind that there will be more traffic when school starts. 
Establish a Homework Area
Creating a separate homework location can aid in reinforcing excellent study habits. For example, the location might be somewhere calm with minimal distractions. Alternatively, it may be in a location such as a kitchen or their room if they have a desk. Include all the school supplies your child will need for their homework, such as paper, pencils, pens, markers, calculators, etc. Be prepared for complaining when the school year starts, as it will take a hot minute for your kids to get back into the swing of things. Address complaints with positivity using language such as "You can" rather than "You can't." Having your child tackle their homework as soon as they get home can make a big difference. Making yourself accessible to assist your child with schoolwork will increase their chances of success.
Back-to-School Shopping
Back-to-school shopping can be great fun! Allowing children to choose what they want helps them feel more in control of what's happening around them. Allowing a few splurges while being mindful of your budget may positively spin what might otherwise be stressful. That new bag or fancy pens might make them excited about returning to school.
Get a Head Start
Before the school year starts, most schools send out an informational packet, forms for updated contact information, etc. Read over all the documents and complete any paperwork, keeping track of when they are due back. Include any paperwork needed for the first day of school in your kid's bag, and make sure your youngster understands what to do with these documents.
Last-Minute Bucket List
Summers end, and the beginning of school can quickly creep up on you before you have completed all your summer plans. Make one more "Week of Fun" bucket list to include a few last-minute adventures, outings, special treats, and playtime or a get-together with friends. When your children feel like they've completed summer on a high note, they'll be ready to start school.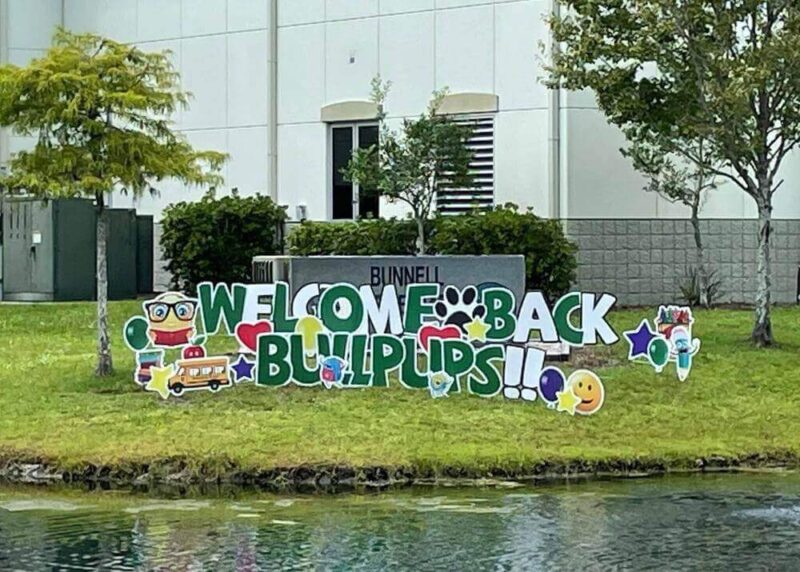 The Day Before School
The day before school is crucial. It's time to get everything in order for your kiddo's big day! 
Backpack Preparation
Prepare your child's backpack the night before to save you time in the morning. Also, designate a spot or basket where your child should always keep their backpack when they come home to avoid misplacing it.
First Day of School Outfit
Select the first day of school outfit. Remember to include socks, underwear, and shoes. And don't leave anything to chance: check the weather and plan an alternate wardrobe if the weather changes.
School Lunch
If your child likes to take lunch, do yourself a favor and prepare it the night before. Many parents do this while preparing supper, so there is just one cleanup. Also, leave the lunch box open to avoid forgetting to add perishable foods in the morning. Finally, a special note of encouragement in your child's lunchbox is a nice touch!
Keep the Evening Before School Calm
Keep the evening tranquil. A pleasant family ritual, like grabbing ice cream the night before school starts, can help to calm anxiety and build long-lasting memories. Avoid loud games and TV, but don't make your youngster go to bed too early. Putting children to bed 15 minutes later than usual will help them to calm their back-to-school jitters and allow them to sleep better and wake up less irritable.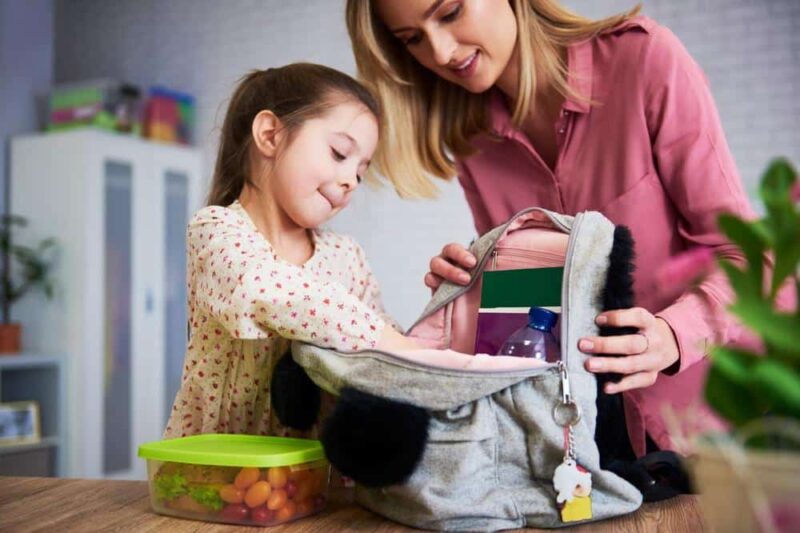 The First Day Back-to-School
Get up and shine: Get up 30 minutes before your youngster to wash and drink your coffee; you'll be cheery even if they aren't! Then, when your child wakes up, instruct them to complete their morning to-do list. For example, tell them they can watch TV or play with their toys in the morning after they've had breakfast, dressed, and brushed their teeth.

Allow for a little extra time: Instead of hoping your 5-year-old will get ready without a fuss, plan for a potential meltdown and allow additional time. 

Make it feel like a party: Show your youngster how proud you are that they have attained this significant milestone. Serve a favorite breakfast and include a surprise, such as a

back-to-school yard card

! 

Make Time to Shoot Photos: Years from now, you and your child will be grateful that you caught this magical moment with a mini photo shoot. Choose one unique location for shots, such as the front porch or stairs, and take a fresh shot at the beginning of each school year.

Arrive Early to School: Most kids like having a few seconds to settle into their new classroom, and if your child is shy, walking in before the room is full of other apprehensive new students is less scary. If you're driving or walking to school, arrive at least 10 minutes before the bell.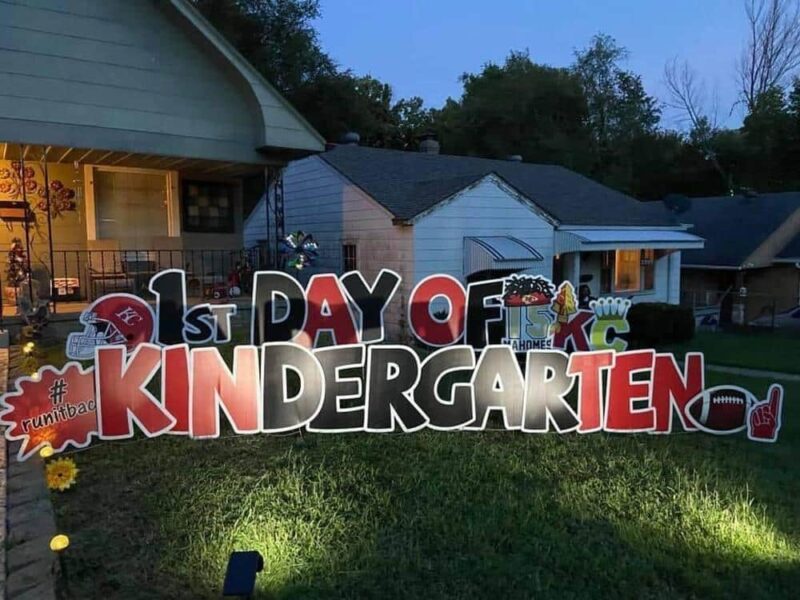 Make Back-to-School Special!
Make going back-to-school special for your child! Send them off to the first day of school special with a back-to-school Lawn Sign! When they come home, serve a special snack and talk to them about their day. Then, at dinner, go through the day's highlights, allowing your child to talk about their goals for the year and any anxieties on the first day of school. Our kids are only little for a short time, so make every moment count! The Yard deSIGNS specializes in celebration yard signs, and we would love to help you make your child's day extra special with a custom back-to-school yard sign just for them! Visit our website to customize your yard sign today!