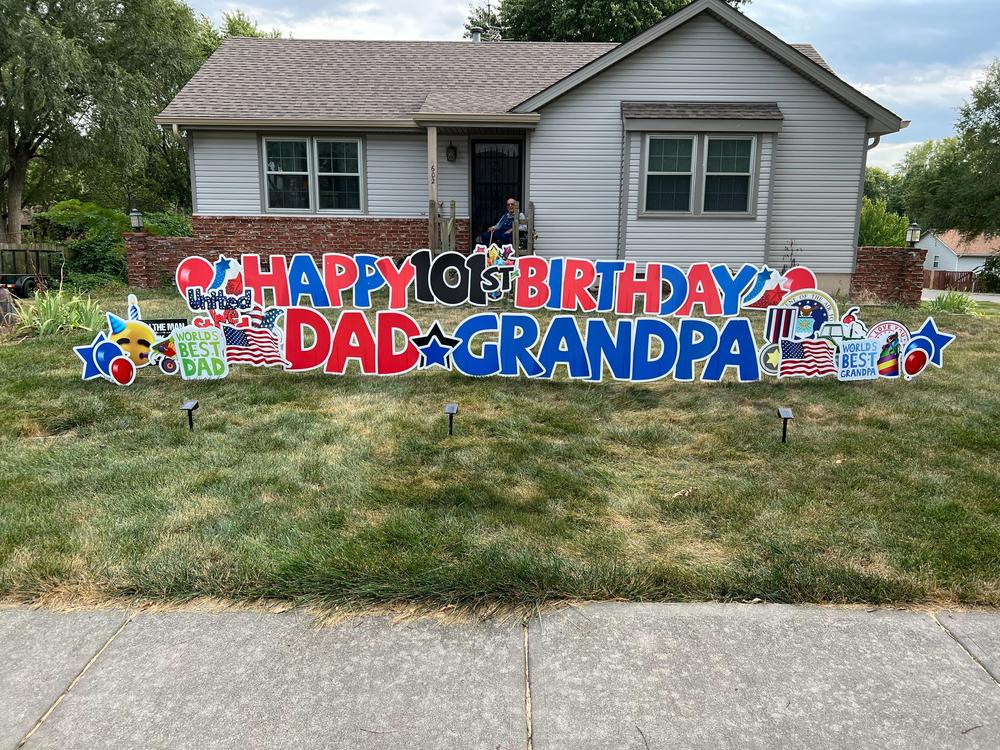 Yard deSIGNS Cass County: Spreading Joy One Sign at a Time
At Cass County Yard deSIGNS, we are in the business of making people smile, one yard at a time. We love being Yard deSIGNEE's because there is no greater joy than bringing a touch of surprise and happiness to our community. Our journey as a Yard deSIGNS team has been filled with laughter, creativity, and heartwarming moments, and we can't help but feel that we have the best job in the world.
Cass County Celebration Yard Signs
Imagine the delight on someone's face when they wake up to a yard filled with vibrant and celebratory signs! That's the magic we get to be a part of every day. The joy and gratitude from our customers are incredibly rewarding, and it's what keeps us motivated to keep going, rain or shine!
Our Favorite Signs – A Glimpse into Our World
We've had the privilege of setting up a wide array of signs, each one with its own unique story and special meaning. Here are a few of our all-time favorites:
Birthday Celebrations
There's something truly special about helping someone celebrate another trip around the sun. Whether it's a milestone birthday or a sweet sixteen, we have had the honor of setting up a sign for a gentleman who just turned 101! It was our privilege to help him and his family celebrate.
Wedding Celebrations
Love is in the air when we create beautiful wedding signs. We've had the honor of setting a handful of wedding signs for some amazing couples! Being part of their special day is a reminder that life is a journey, and when you find the perfect partner to share your life with, you have to hold on tight and make every second count. We would love to help you celebrate your happily ever after!
Retirement Parties
Retirement marks the beginning of a new adventure, and our signs make the transition even more fun. We've had the pleasure of celebrating retirees' achievements and sending them off to the next chapter in style.
Welcome Home Baby
Welcoming a new member into the family is a heartwarming experience. We've had the honor of setting up two welcome-home baby signs for the same family. The happy grandad had two new grandsons within two weeks of each other! It was so fun to help them announce the arrival of each of their little bundles of love. The joy on the faces of the new parents was simply priceless.
Why We Love What We Do
Each of these moments, big or small, adds to the amazing experiences we have been part of as Yard deSIGNEE. We take pride in being a part of the special occasions and milestones in the lives of our community members. Being a Yard deSIGNEE goes beyond setting up yard signs; it's about spreading happiness, creating memories, and being a part of people's lives during their most joyous moments. There's a certain magic in knowing that our work can turn a regular day into an extraordinary one. So, when you see our colorful signs adorning yards in the Cass County area, know that it's not just a display – it's a symbol of celebration, joy, and love.
Thank you to all of our fabulous customers for allowing us to be a part of your lives, and here's to many more smiles and unforgettable moments to come with celebration yard signs in Cass County!