When it came to finding a yard sign for her little sister's nursing graduation, 4 ½ years ago, Katie and her family were disappointed in the lack of yard signs in the area and the quality of those online. Fast forward 4 ½ years later, and Yard deSIGNS have taken the yard sign industry by storm. With over 30 locations all around the United States and a goal of 300 locations in the next few years, the yard sign rental company is on a mission to create joy in communities everywhere.
I got the chance to sit down with Katie Goth, Franchise Manager, and Co-Founder of Yard deSIGNS to talk about the yard sign rental company, what sets it apart from other yard sign companies and what becoming a deSIGNEE entails. Keep reading for an inside look at the yard sign company that is changing the world for the better, one yard card at a time.
How to Become a deSIGNEE at Yard deSIGNS – The Unique Yard Sign Rental Company
How did you get started with Yard deSIGNS?
About 4 ½ years ago, my family and I were looking to do a yard sign for my little sister's nursing graduation. We could not find any yard signs in the local area, so we ordered online, and the quality was horrible. Because of this situation, my mother and aunt thought, maybe there is a need for this. To be honest, I thought they were crazy. 
I have a marketing background, and they asked if I would assist in making a website, social media, etc. After a month of putting up over 60 signs, I started thinking differently about the idea. While doing some market research, I realized there was actually a need for yard signs. 
The first six months were really spent on developing our own font and material that could withstand the unprecedented weather conditions here in the Midwest. Once we perfected the quality, we moved on to website development, and from there, started creating a franchise business. 
What was the main mission of Yard deSIGNS?
The main goal of it all was to spread joy throughout the community and to help people celebrate in a different way. We set out to find and create partnerships with nonprofits, schools, and other businesses around the community to spread joy and happiness. 
You know, when Covid hit, we really started seeing our mission come to life. We watched our franchisees spread smiles from a distance, and donate signs to essential workers all around the community.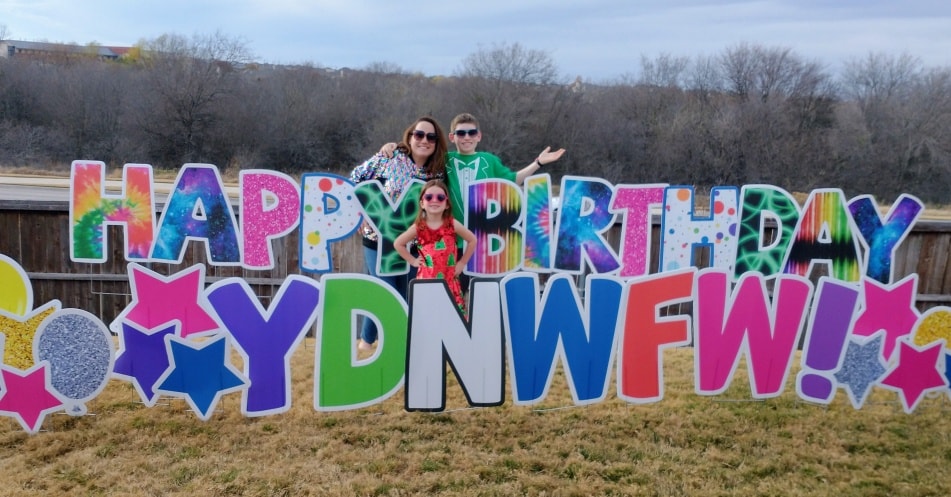 Where did the concept of creating a franchise business come from?
Word of mouth is huge, and when we started selling yard signs here, we had friends and family reach out, wondering if we could set up our yard signs 45 minutes away to over an hour away. Well, that's just not cost-effective for a yard sign company to go outside of a certain mile radius. As time went on, people were reaching out asking if they could start their own Yard deSIGNS. Once we saw the need, we started developing the plan to go nationwide in 2019.
We wanted everyone to be their own business owners. We want to help them as much or as little as they want us to. However, we still want the brand, image, and quality to match the corporate office.
What brings you the most joy working with the yard sign rental company and being the franchise manager? 
Actually going out and setting up the signs. Seeing people's reactions to the signs is so fulfilling. Military homecomings are extra special. And, since Yard deSIGNS has been around for over 4 years, we are actually able to grow with the family and be a part of everyone's milestones and celebrations. 
From a licensee and franchise manager standpoint, watching people grow and hit their goals is one of my favorite parts. I love seeing people realize they can and are more than capable of owning a small business. Seeing a franchisee go from a full-time job to being with Yard deSIGNS full-time is incredible. 
What is your day-to-day life like as a Franchise Manager?
One of the most important things about being a Franchise Manager for Yard deSIGNS is that we are there for our licensees as much or as little as they want us to be involved. We have an online owners only Facebook group where I send marketing tips, special advertisements, and promotional calendars.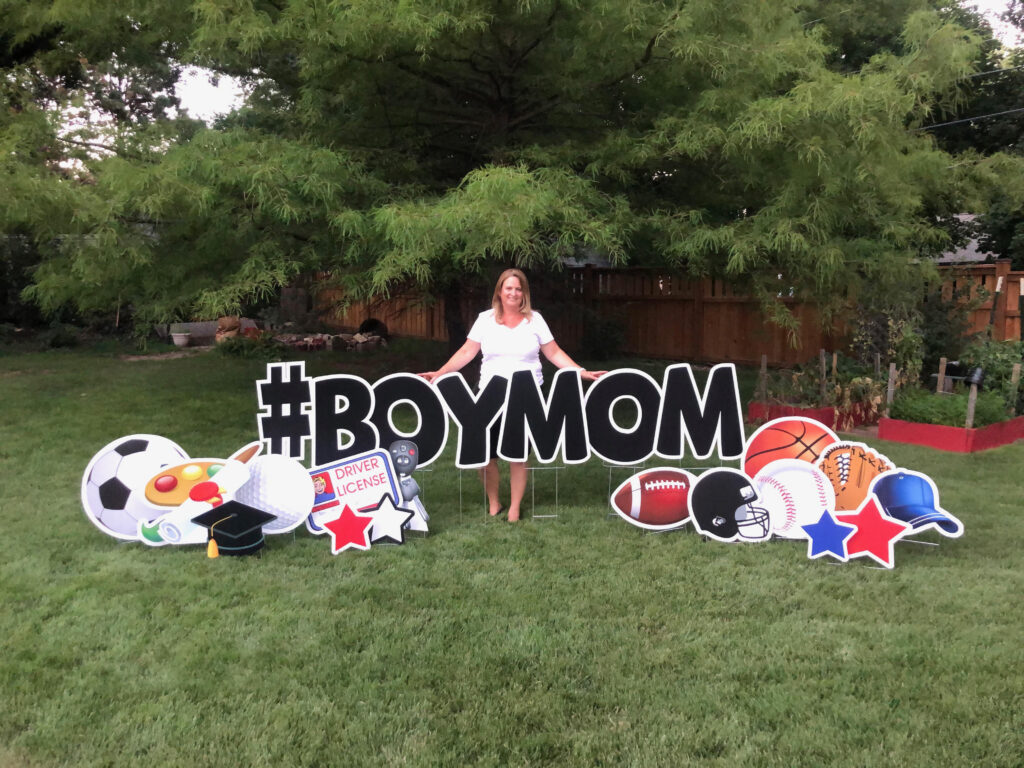 On a day-to-day basis I am checking sales goals and offering guidance on upcoming events. For example, Catholic School Week and the 100th Day of School is coming up. So, I am offering campaign ideas and guidance to our licensees for special events and holidays. 
On the backend – I am helping and advising licensees on social media, their website, their Google profile manager, SEO, and other marketing and technical tasks. Networking, marketing the franchise aspect of the business are what take up most the day. 
How does one become a deSIGNEE at the Yard Sign Rental Company?
The first step to becoming a deSIGNEE is to visit our website and fill out the form on our Join Our Team page. From there, we check your social media background, your computer experience, and we make sure there is an open territory in your area. 
We then set up a phone interview to learn more about you and why you're interested in Yard deSIGNS. The most important thing is territories. To ensure Yard deSIGNS is a good fit for the territory, we pull demographics, schools, networking groups, and more.
If the territory is a good fit, we move forward with setting up the contract, business licensing, and we begin onboarding. Onboarding includes website training, social media training, and a 14 page marketing plan specific for your territory. While there is a lot of training at the beginning, the fun stuff comes shortly after. 
In today's world, it's all about MLM business. To be clear, we are not an MLM business at all. As a deSIGNEE, you are truly your own business owner with the freedom to create your own unique sales goals and promotions. 
What are the benefits of becoming a deSIGNEE?
When you become a deSIGNEE, you are a part of the Yard deSIGNS family. We are a small, family run, corporate office with a graphic design team, a website team, and an SEO team. In our online owners only group, you can see how everyone just really supports everyone.  
Not to mention, this business is so joyful. When you're setting up signs, people are happy and excited to see the final product. It's a very happy, fulfilling business with support on the backend.
How is being a Yard deSIGNEE different from being a franchisee at another business?
Specific to the yard card industry there are a couple of things that separate us from the rest.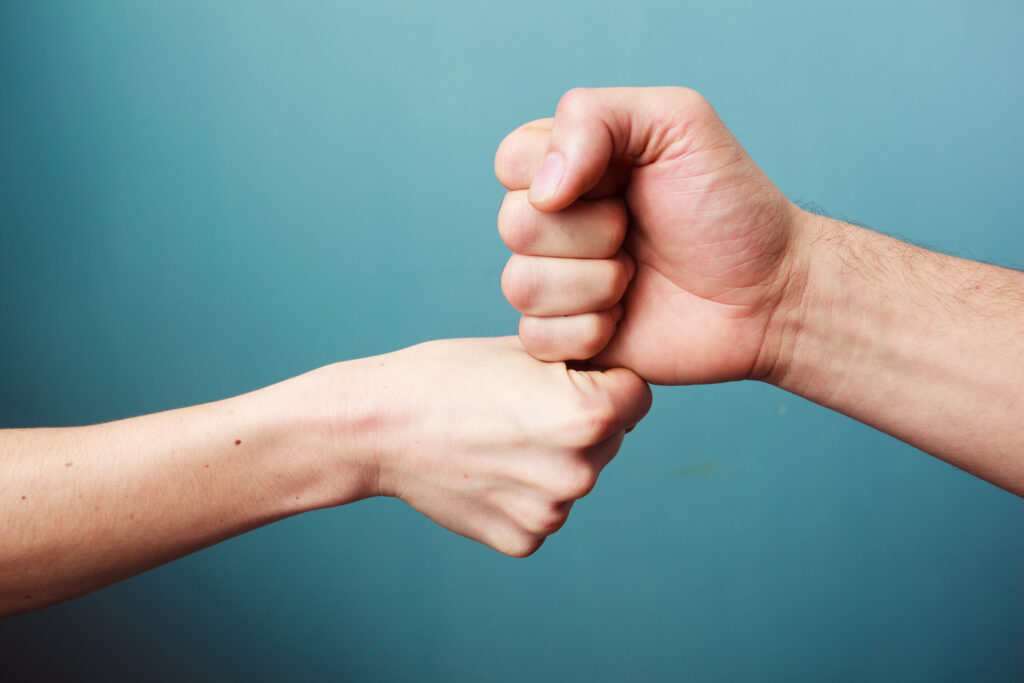 Our website is one of the top notch websites in the yard sign rental company industry that is aesthetically pleasing and extremely customer-friendly on all devices. From a licensee standpoint, we have everything done for you. You can hop on, print out reports, talk to customers, etc. It is an easy and simple backend situation, perfect for people with a small amount of computer experience. 
Our inventory is another thing that separates us from the other yard card companies. We have a custom font, meaning only licensees of Yard deSIGNS have access to our font. We also have custom graphics, only available to our licensees along with the ability to get custom graphics created. Furthermore, we are creating new, unique graphics every month. 
Last, but certainly not least, we do not collect any royalties. The profit is 100% yours.
What do you believe is the most important aspect of being a deSIGNEE?
The most important aspect is creating partnerships in the community. As a deSIGNEE, it is so important to create partnerships with schools, hospitals, small businesses, going out and meeting people while spreading the word of Yard deSIGNS. 
What is the support process like for a new deSIGNEE?
At the beginning of the process, we are best friends. New deSIGNEEs work directly with me. I teach them, guide them, and help them with all of the marketing. We help guide them in setting up their first sign, and we are available via email 24/7 along with a special messaging platform as well. Once their business is up and going, we also set up monthly marketing meetings. 
Tips for Becoming a Successful deSIGNEE at the Yard Sign Rental Company?
Don't compare yourself to other licensees. Every single person has different goals. So, whether you are a stay-at-home mom who can only do 2 signs a night, or you work full-time and you're only comfortable setting up 10 signs a week, that is okay. There are also licensees who have worked up to being able to be a deSIGNEE full time and are putting up 75-100 signs a month. Everyone's situation is different. 
Spruce up your marketing, and don't fall into a rut of doing the same things over and over. Take advice on what events are coming up and what partnerships you could create in your community. 
Look for opportunities to donate signs throughout the community as well!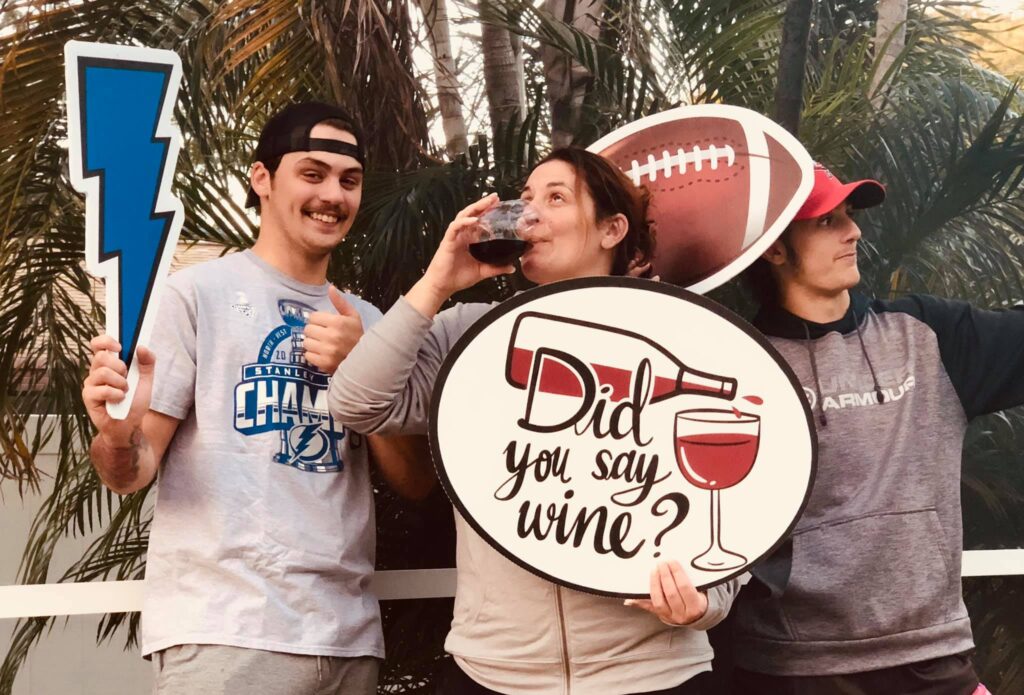 Lastly, do you have a few favorite yard signs that stand out? 
One yard sign that really stands out is a welcome home yard sign for a 2 year old little girl that was in the hospital for over 75 days. Yard signs that celebrate someone's last day of chemo are extra exciting and special along with military homecomings and big milestone birthdays! 
Recently, our St. Louis licensee shared a yard card for Billy Boy who was turning 90. The yard card was ordered by a complete stranger and along with the yard card, 400 random people sent birthday cards to Billy Boy as well. 
What the deSIGNEES Have to Say
Yard deSIGNS is on a mission to spread positivity throughout communities everywhere, celebrating any and all occasions and accomplishments. Interested in becoming a part of that change? Check out what deSIGNEES have to say about being a part of the Yard deSIGNS family. 
"I love being a licensee because I came from big box retail. Where our names didn't matter to the corporate office of our company. Amber Cleveland didn't exist in their realm. Here? At YD? My corporate team knows my kids' names. I'm important. My name matters. Thank you for being truly a gift." – Yard deSIGNS in Cass, Co Amber Cleveland. 
"Best job ever! I needed something outside of my house while still allowing me a flexible schedule. This saved me from a slump in 2020 and I have enjoyed every minute of the last year! JOY BRINGER AND SIGN SLINGER!!!" – Yard deSIGNS NW Fort Worth Owner, Cassandra 
"With this job, I can work full time, while also contributing to my retirement, along with a little extra money for ME days!" – Yard deSIGNS East Valley Owner, Stacey
So, what are you waiting for? If you have an entrepreneurial spirit, looking for a job filled with light and positivity, and want to become part of a fast-growing yard sign rental company, it is time to become a deSIGNEE.