Yard deSIGNS is happy to say we are celebrating our 5th year anniversary, spreading joy in the areas we serve with celebration yard cards! We have so much to be grateful for and have been loving our journey and the opportunity to serve those in the community where we started and in the communities where we have Yard deSIGNS licensees! Our story began as a simple need and has grown into a business that we are so passionate about!
The Beginning of Our Yard Card Journey
First, let's start with introductions! My name is Katie, daughter of co-owner Becky Johnson and niece of co-owner Tracey Wiley, and this is the story of our yard card journey. 
The creators of Yard deSIGNS are Becky Johnson and Tracey Wiley, sisters and entrepreneurs. Yard deSIGNS began in December 2017 when we researched getting a yard card for a relative celebrating a special occasion. Becky wanted to order a yard card to celebrate the special occasion. So, we decided to order one online and set up the sign ourselves. Unfortunately, we realized these online signs were not weather friendly and would not survive the snow we had. So, it was a bust. This led Becky, Owner, and co-founder, and Tracey, Owner, and Co-Founder, to start considering what it would take to start a yard card company. Yard deSIGNS was born.  Becky and Tracey asked me to help do market research and get their name out there since I have a marketing degree.
After some market research, we worked fast to find our inventory and get us up and running. By the 2018 graduation season, we had an online website, some social media pages, and advertising started. We did 50 signs in May of 2018. We quickly realized this part-time garage business was growing faster than expected. We spent the next year nailing down vendors, working with our now graphic designer, and customizing custom inventory and, at this time, an exclusive Yard deSIGNS font. We also worked on creating an easy, one-of-a-kind online website platform. We were the first yard card company to offer a complete online ordering and payment platform versus an online form. 
After a successful year of sales, custom inventory to survive any weather condition, and a one-of-a-kind website platform with easy online ordering for the customer, we started getting numerous requests for signs in different cities and states. With this being a rental business, we could not fulfill the request. We worked with a great team and decided that offering entrepreneurs the option to become a Yard deSIGNS licensee was the way to go.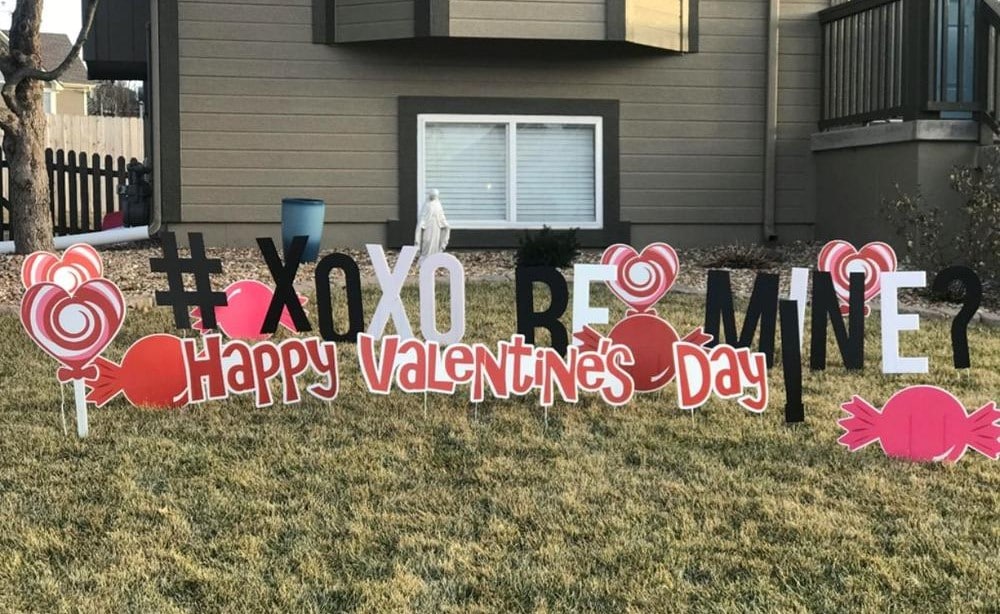 Overcoming Obstacles in the Yard Cards Business
Being an entrepreneur is amazing. However, what people don't see behind the scenes is the true work it takes to run this company. There are weeks we work 70+ hours. We have spent a lot of money on things that didn't work. As an entrepreneur, you put all your hard-earned money back into the business the first 3-5 years. There are no off days, ever. We must be able to answer our licensees consistently for things such as website etc. There is a lot of blood, sweat, and tears that have gone into creating every aspect of our business. BUT, we wouldn't change all the hard work. Watching our business spread smiles and give back to communities across the nation is watching our dreams come true.
Yard Cards Across the Nation
Fast forward to today, we are now trademarked; we are in 13 states, have 28 locations, and are continuing to grow! Yard deSIGNS is the best leap of faith we have ever taken. We get to spread smiles daily throughout the community with our celebration yard cards and help entrepreneurs start their own locations. We still personally own Yard deSIGNS Lee's Summit. Our Yard deSIGNS Lee's summit location has done over 4,500 signs in the last five years. We can't thank our community and licensees enough for making our dreams come true.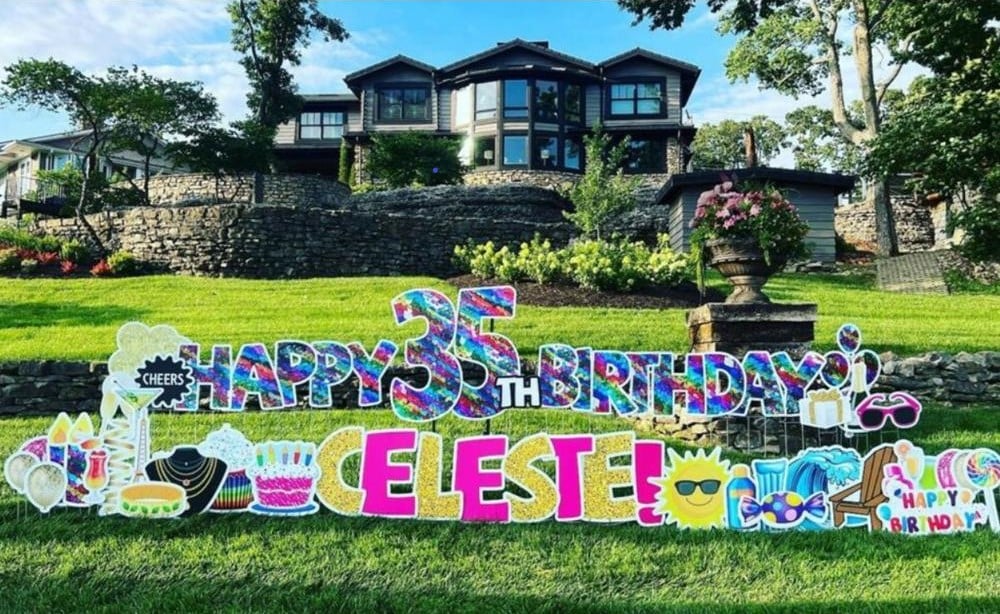 Some of your Favorite Yard Card deSIGNS and Why
With each yard card, we try to tell the customer's story. We truly love all the yard cards we do. Some of our favorites are Ring that bell for chemo, being part of surprises for welcoming home military family members, and even got to help celebrate a Make a wish nominee! We absolutely love doing yard card deSIGNS for community events.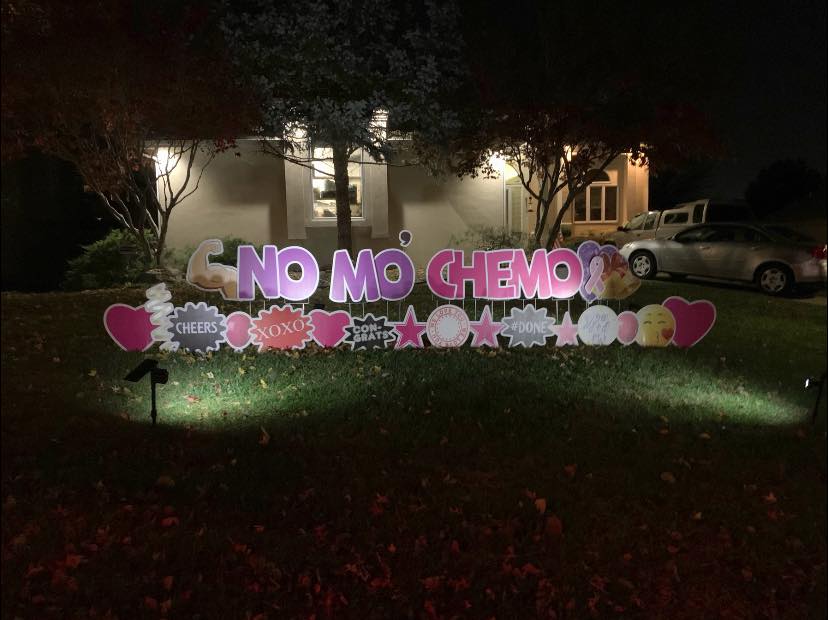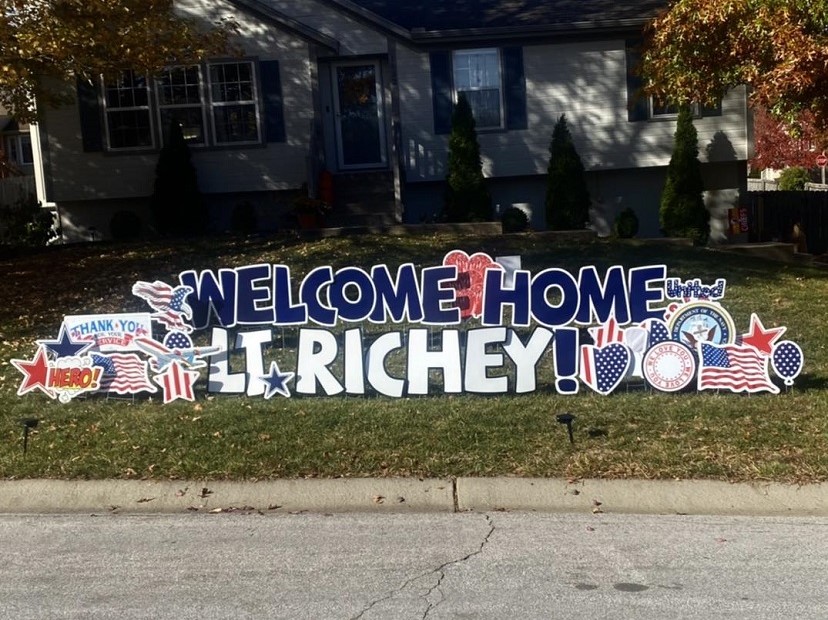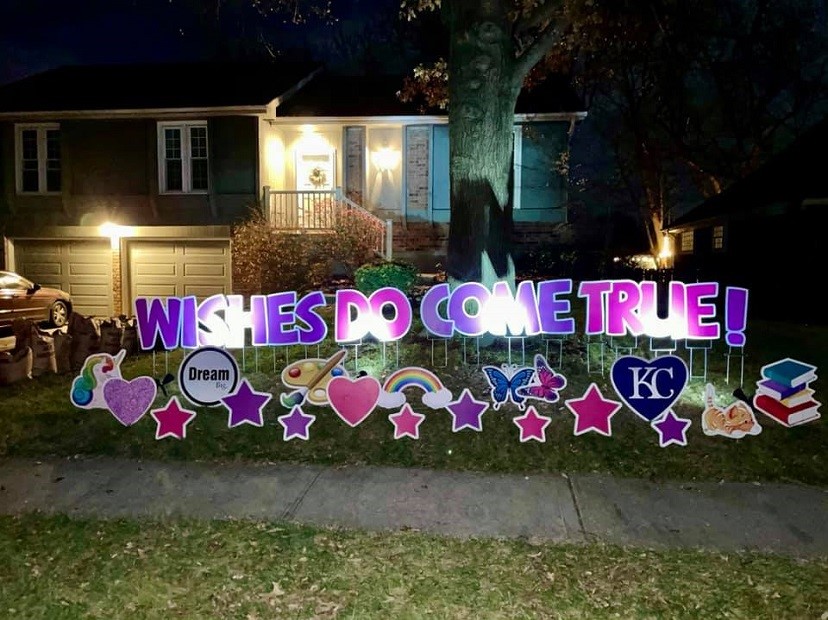 What Do Yard Cards Cost at Yard deSIGNS?
Yard deSIGNS yard card rentals start at $75, depending on the package chosen for a 24-hour placement. If customers want to keep the sign for longer than 24 hours or add special lighting, the price goes up from there. 
Our signs are created to withstand the elements, so our customers get quality yard cards for their celebrations or event. We have signs for every occasion, from birthdays, graduation, school, weddings, anniversaries, business openings, and more! We custom-create our font, graphics, and letter designs to stand out from the competition and to provide our customers with a unique and fun way to celebrate.
Become a deSIGNEE at the Yard deSIGNS!
Are you an entrepreneur at hear? Are you ready to take a leap of faith with a proven concept? If you or someone you know is interested in starting your own Yard deSIGNS location, check out our website and fill out our Become a deSIGNEE form. After you complete the form, we will contact you with more details, including capital investment for your desired location.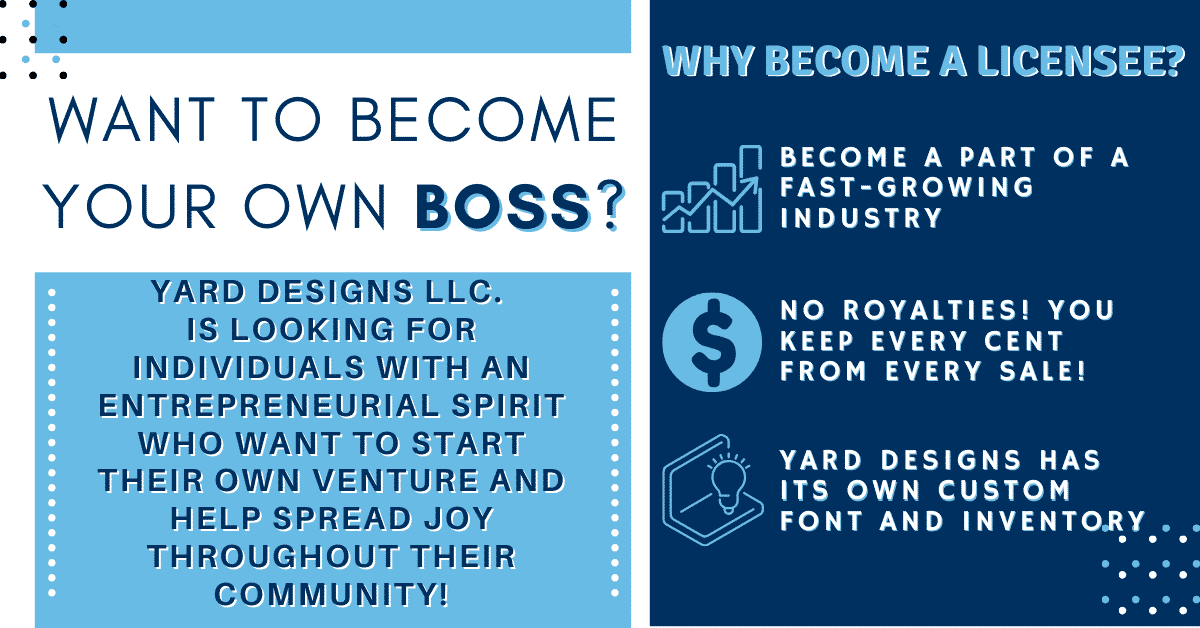 Thank you for Supporting Our Entrepreneurial Spirits!
From the bottom of our hearts, everyone here at Yard deSIGNS would like to thank you for your continued support over the last five years. We could not have done it without you, and we are so grateful to have had the opportunity to celebrate with you, creating yard cards for your special occasions! We look forward to many more years of celebrations and can't wait to set up a celebration yard card for your next big day or event! Are you ready to order a yard card, or want to learn more about what we do? Visit our website, and follow us on social media!