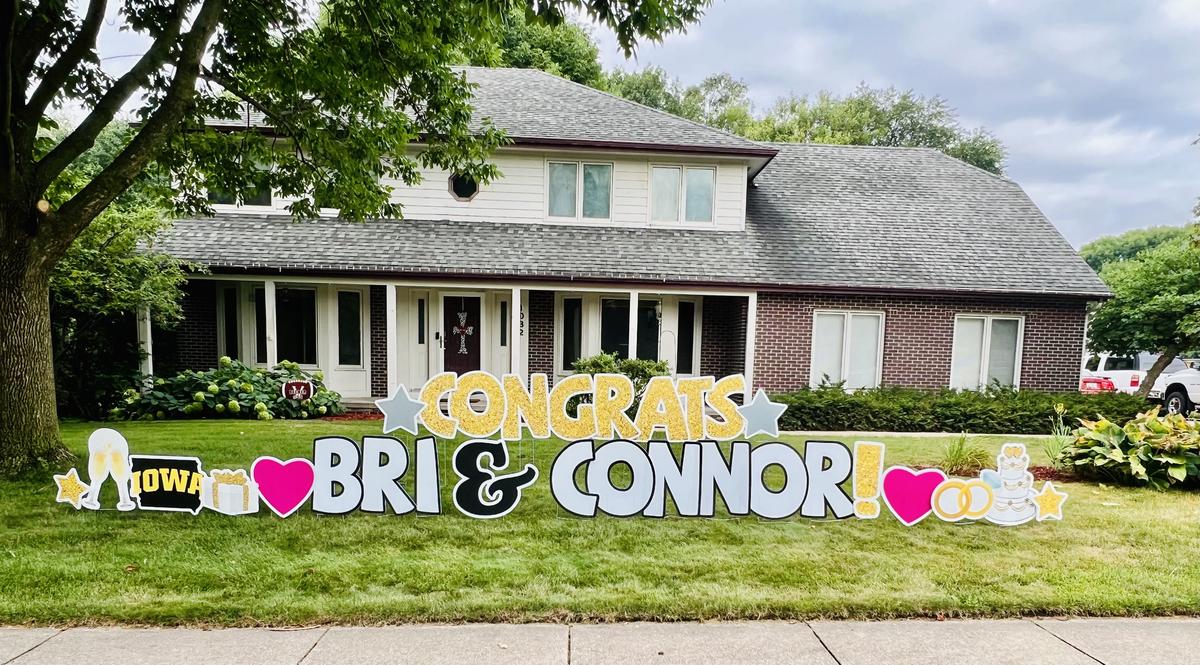 Check out West Des Moines Yard Sign Spotlight!
This is our favorite recent design at Yard deSIGNS West Des Moines! It is simple but classic and was the first "wedding" sign we have done. More importantly, it was special because it was for our neighbor girl, Bri, who used to babysit for us. She is marrying her high school sweetheart, and they are an adorable couple!
Her mom ordered this sign for the rehearsal dinner that they hosted at their house. It was such a fun way to welcome their guests and start off their wedding weekend! Plus, it made for a fun photo opp! We love all of the business we get for "Happy Birthday" signs, but it has been really fun getting to do signs for business open houses and events, new babies, 50th anniversaries, and now a rehearsal dinner. It is so fun getting to use our creativity to come up with new ideas to help people celebrate their special occasions. 🥰
We recently did our first school sign giveaway competition for our area, and it was a hit! The top 3 schools resulted in over 500 comments and over 100 shares in just over 24 hours! We have quite a lot of business that has come from this in the past few weeks-3 back to school signs, as well as a dozen or so from people who commented and took advantage of a discount code that we offered all of the participants.
So if you are looking for a fun and unique way to celebrate your next event, reach out to us! Be sure to check out our service area, and if we have ever set a sign for you in the past, we would be grateful for a Google review!
We would love to be part of your special day!