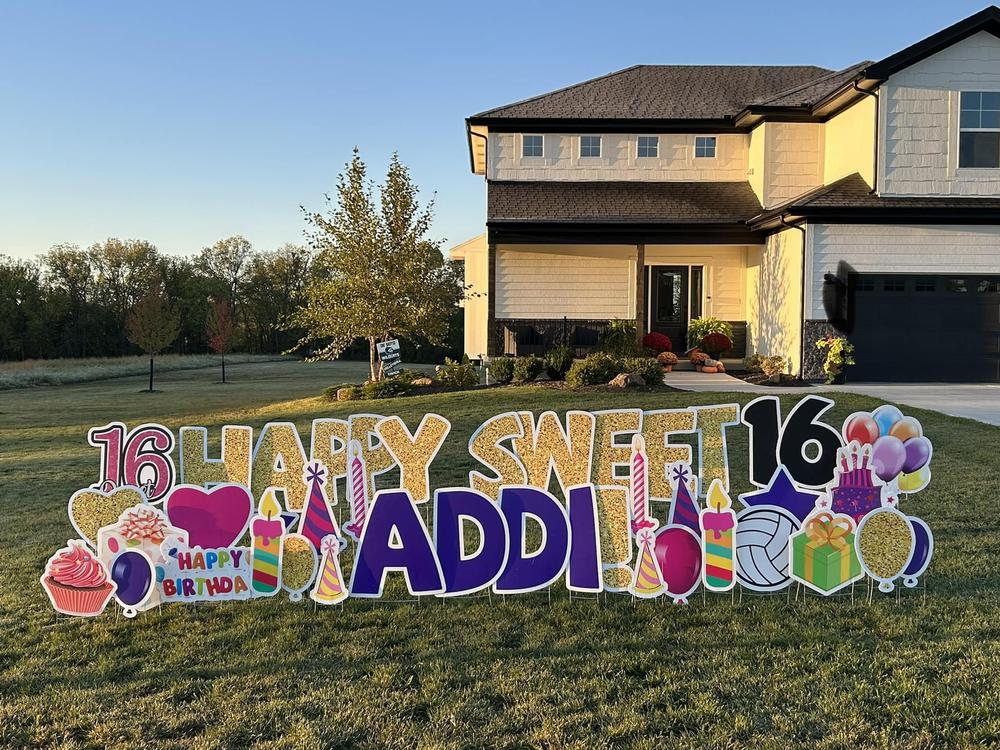 Check out Gardner Kansas Yard Sign Spotlight!
Becoming a Yard deSIGN licensee for  Yard deSIGNs, Gardner, Kansas, has begun an amazing new chapter for me. It has opened the door for opportunities to get out into my local community and meet so many new people. When placing signs, you are truly putting smiles on others' faces, as you are getting to help them celebrate their special occasions.
From festivals and birthdays to anniversaries to welcome home signs, customers are always excited to see the designs to add to their special day. Yard deSIGNS has pulled a creative side out of me that I never knew existed! Getting to customize the designs and learn new tips and tricks for setting them up has been one of my favorite things thus far. The photo above features one of my favorite birthday signs I have had the pleasure to do. Addi's Sweet 16 sign is a prime example of putting smiles on faces: "Beautiful signs for my daughters sweet 16!! She loved them!!" This sign shows the way Yard deSIGNS can customize graphics and colors to cater to all different interests/hobbies for people of any age. The way I placed the graphics to make a 3D effect is why this sign is my personal favorite. While placing the design, I was able to meet the mother of the family and learn more about them!
Reading customer reviews is another part of my job that I love. Customers' feedback not only helps my small business tremendously but personally is so rewarding. This next customer even provided a video of their girl's reaction to seeing the sign! "Hannah is so great! She came to install the sign the night before so that my girls would be surprised when they woke up. They are convinced that it was the work of the "birthday fairy." Thank you for making their day special. We will definitely be calling back for special occasions." These are the reasons that make Yard deSIGNS so special. I am so lucky my adventure has just begun with this business, and remember to call the birthday fairies at Yard deSIGNS for your next special occasion!