Another trip around the sun means it is time to celebrate! Whether you are turning 50, 75, 21, or 10, Yard deSIGNS is here to help you celebrate accordingly. If you are planning your birthday party or if you are planning a loved one's birthday party, consider involving your friends and family who can't celebrate in person. Below, we give 10 different ways to party virtually. From a birthday drive-by parade to a birthday yard sign rental, we are giving you our favorite celebration ideas! 
Tips for Preparing Virtual Birthday Celebrations
Just like birthday get-togethers in person, virtual birthday parties take some preparation. Here are some tips to consider when planning a virtual birthday party: 
Choose your virtual location.

Zoom

,

Google Hangout

, and

Facetime

are a few of our favorites. 

Prepare invitations whether you are sending via mail or email. Even if the party is via the World Wide Web, your guests will appreciate and love an invitation. 

Decorate your space. Along with

birthday yard sign rentals

, there are so many options to spice up the celebration space. 

Plan games, gift-opening, and the order of events. Depending on the age of guests, consider crafting fun cocktails to celebrate with as well. Here's to a virtual, cheers!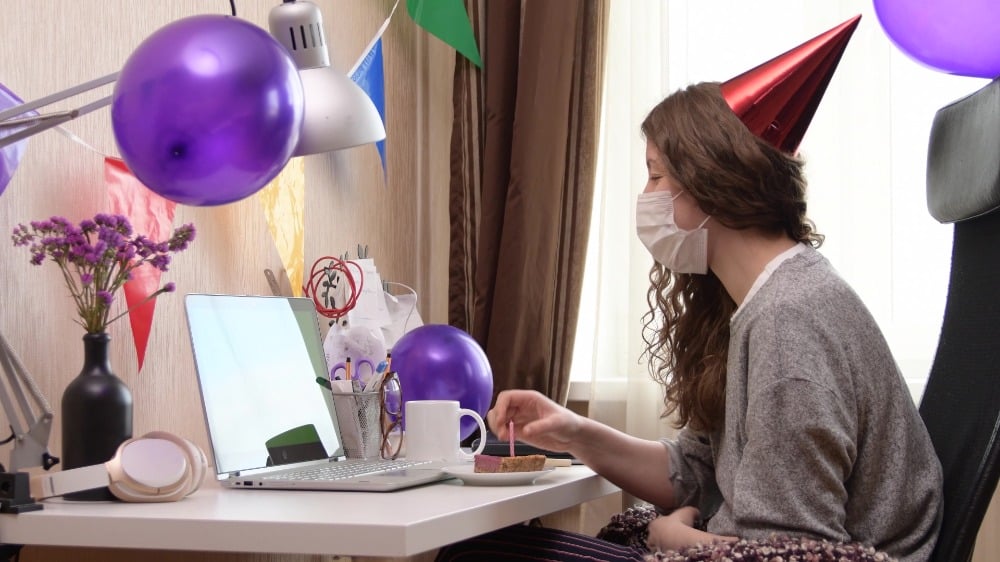 10 Top Ideas for a Virtual Birthday Party 
1. Birthday Drive-By Parade
To start our list is an epic birthday drive-by parade. Call all your friends and family and pick a time during the special day to drive by the home or location of the party. Many guests will deck out their cars with balloons and signs, blare their radio, and honk to celebrate! Even better, consider yard sign rentals to mark the location of the birthday and make the outdoors that much more festive! 
Personalized happy birthday yard signs not only make the birthday girl or boy feel special, but it also marks which house to honk at in the neighborhood. Yard deSIGNS recommends setting an hour or two aside for guests to drive by while the one being celebrated can stand outside!
2. Happy Hour Party
Did you know liquor stores fall under the essential business category? Essentially, a happy hour party is one of the best ways to celebrate a birthday! Schedule a Zoom, Facetime, or Google Hangout and make your favorite craft cocktail, and celebrate another year around the sun. 
To make the day extra special, visit yard sign rentals, Yard deSIGNS, for outdoor decoration, and assign a friend to be the mixologist. Together, learn how to make a new, tasty cocktail!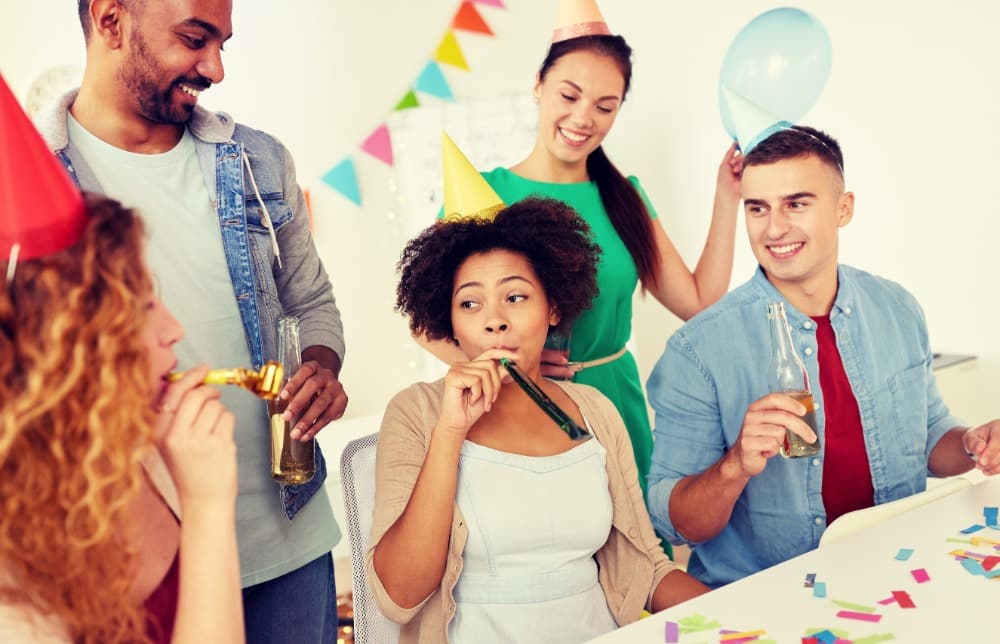 3. Get Your Sweat On
Calling all birthday people who love to be active! If you want to start the birthday party off getting your sweat on, try signing you and all of your loved ones up for a virtual exercise class. Kickboxing, HITT, Pilates, or a Zumba Dance Party are all great options to sweat it out on your, or your loved one's, birthday. 
Afterward, celebrate the birthday, and the work out you did, with refreshments and treats! 
4. A Sing-Along Celebration
Celebrating a child's birthday virtually may seem difficult, but we recommend a Sing-Along Birthday Party. Send an invite to parents with a link to a Zoom or Google Hangout Meeting. Have everyone hop on the meeting and sing Happy Birthday as loud as they can. 
Then have your child open gifts, blow out candles, the whole shabang! 
5. Cooking Birthday Party
One of our favorite ways to celebrate a birthday virtually is to host a cooking party. On the party invitations, include a list of grocery items needed and a link to the virtual cooking show. On the day of the party, have everyone meet virtually, cook together, and then dine on the tasty dish prepared. 
6. Painting Party
If the birthday boy/girl is creative, a painting party is a perfect way to celebrate their big day. First, do some research into some local studios to see if they are hosting a virtual paint night along with the dates you're planning for the party. However, if you want to go full-on DIY, have guests order supplies, set up a Zoom, and paint away!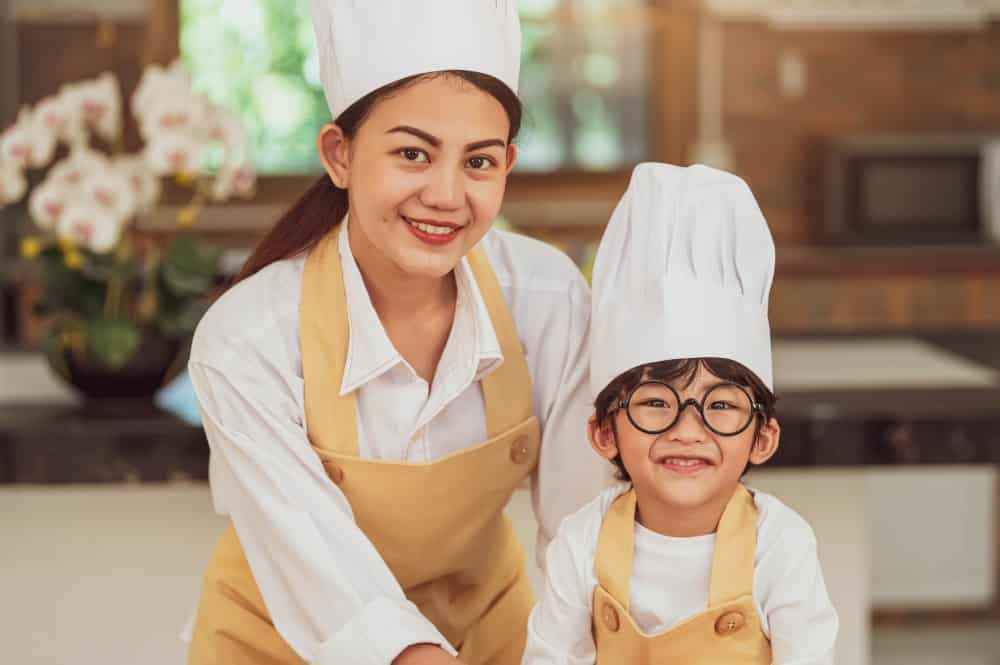 7. Host a Game Show
Games are one of the best ways to spend time together and laugh. Try hosting your very own game show to celebrate a birthday! Whether it's Family Feud or The Weakest Link, the party is sure to be memorable. Split into teams and get ready to compete, right from your living room. 
8. Create a Birthday Video
Creating a heart-warming video is one of our favorite ways to celebrate the more sentimental birthdays! Hone in on your creative skills, and have everyone send a short clip, wishing the birthday boy or girl a happy birthday. Put all the clips together, and during the party show the video to your loved one! 
They are sure to enjoy seeing everyone they love, and you may even get a few happy tears. 
9. Order a Laugh!
On the other hand, for a less sentimental celebration, order a laugh! Comedy clubs are now live streaming shows and selling tickets to virtual shows. Find your favorite comedians or comedy clubs, order take-out, and laugh the night away!
10. Birthday Yard Sign Rentals
Last, but not least, ordering a birthday yard sign rental is a wonderful way to show you care from afar. Yard deSIGNS provides pre-designed packages or customized packages, whichever you prefer. We deliver, we design, and we clean up! On birthdays without all of your loved ones in person, celebrating together can be difficult. But, with yard sign rentals, you can ensure they know you're thinking of them all day!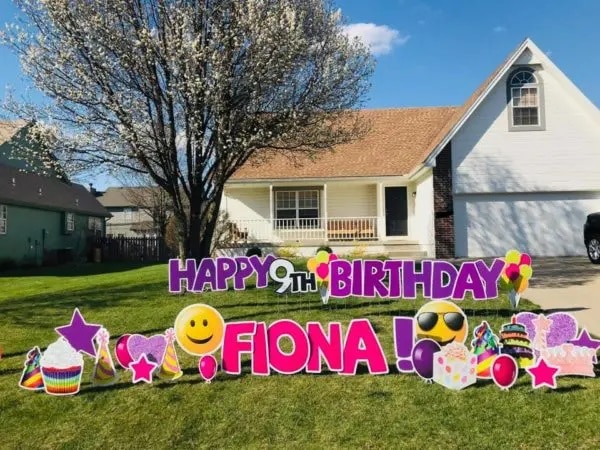 You may not be able to hug one another or physically clink glasses and cheers, but, with birthday yard sign rentals, the whole neighborhood can celebrate! We hope our above ideas make your birthday or your loved one's birthday just as special as the rest. Order a birthday yard sign rental today. Yard deSIGNS is here to help you celebrate any occasion, even from miles away!