After a year of hardship and unprecedented times, spread positivity with the help of Yard deSIGNS. In the following article, we discuss all the benefits of celebration yard signs. Learn how our lawn signs bring positivity to not just the one you are celebrating but to the entire neighborhood. From bringing smiles to the community to celebrating every occasion, Yard deSIGNS is here to bring the party and celebration right to your doorstep.
Benefits of Celebration Yard Signs
There are numerous benefits and reasons why yard signs spread love, light, and positivity. Yard signs are meant for all of life's special moments including birthdays, holidays, work promotions, new babies, and more. 
During the year 2020, many people found themselves isolated from the rest of the world. Birthday parties that were usually celebrated with the entire family and all of your loved ones were suddenly virtual. For a time, we said goodbye to big family reunions, happy hours, and celebratory get-togethers. This is where Yard deSIGNS steps in to make a special day even more special.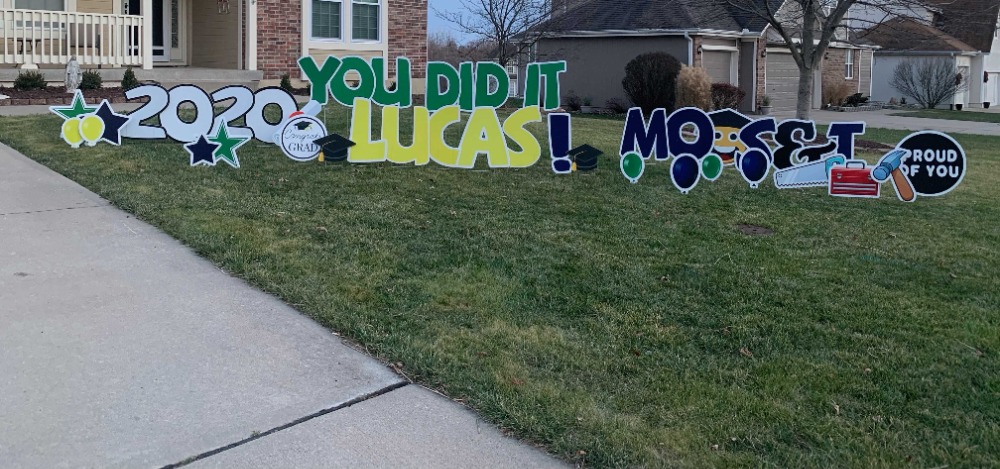 Benefits of yard greeting signs include being able to celebrate a holiday or moment with your loved ones when you cannot be there in person. Celebration yard cards are a unique way to shout from the rooftops how happy you are for your family and friends. Cards are traditional, so this year, go for the nontraditional route. Don't Sign the Card, deSIGN the Yard! 
Let's discuss all of the different occasions that call for our fun yard signs. 
Occasions for Lawn Signs
Birthdays
Birthday lawn signs are a magical way to make a fun day even more personalized and special. Spread the birthday love and positivity throughout your whole community by checking out the best personalized happy birthday yard signs. 
Graduations
Graduations are another big event that was celebrated differently this past year. Take your decorations to the next level with yard signs. Graduating high school, college, and another schooling is a big deal, and to show how proud you are of a loved one.  A yard sign is a perfect gift.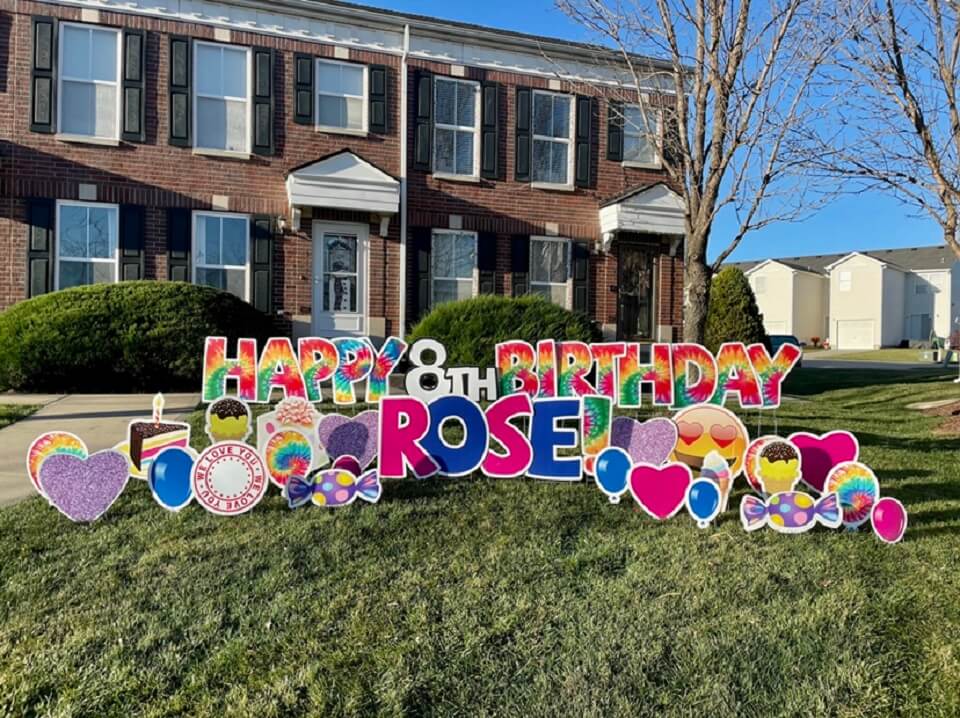 Holidays
Holidays, including Christmas, Valentine's Day, Fourth of July, and more, are great opportunities to decorate your yard with positive and encouraging words. Wish your community a Happy Easter with a grand, beautiful celebration sign. 
Company Milestones
While joyful signs are used for front yards in residential areas, celebration signs for businesses can be a hit as well. What better way to celebrate a company milestone than a heart-warming sign as employees pull up to work? Lift your company's spirits and celebrate company milestones with Yard deSIGNS today!
 We love our Chiefs, and whether you're a Kansas City Chiefs fan or not, Yard deSIGNS is here to make football Sundays even better. With a supportive sign to your favorite team, you will raise community morale, receive car honks in support, and so much more! Football Sundays can be the best day of the week, and we're here to cheer your team on! 
Welcome Sign
Whether you're welcoming your son or daughter from college or welcoming a new little one to the family, Yard deSIGNS is here to make your welcome home sweet and sincere. Celebration yard signs are the perfect way to show how excited you are that your loved one is home. We love a welcome doormat, but a welcome celebratory sign is our favorite way to welcome loved ones with open arms.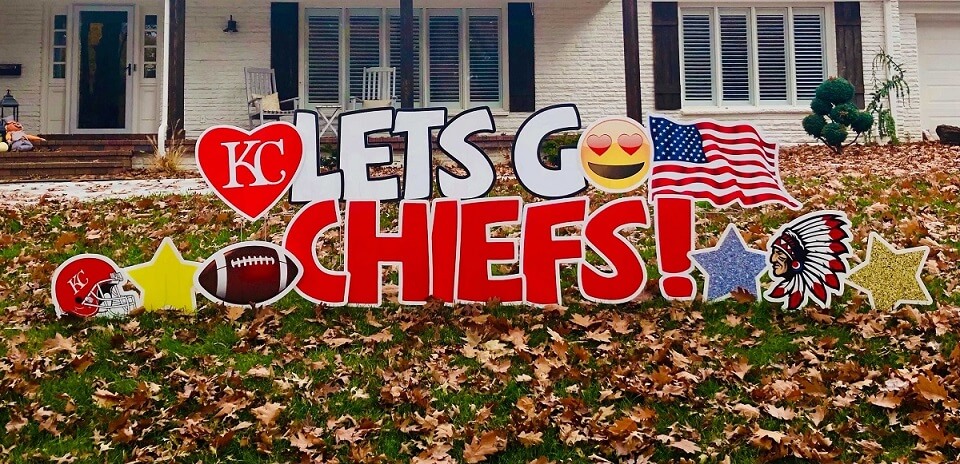 Anniversaries
Whether a couple has been married for 5 years or 50 years, anniversaries deserve to be celebrated. Yard signs are a perfect way to celebrate marriages in your life. If your grandparents or parents haven't been able to have a big anniversary party, consider a yard sign to brighten up their big day. 
Just Because
Oftentimes, our "Just Because" signs are our favorite. Brighten up any day with a surprise sign to just let a loved one know you're thinking of them. The sign can be a simple, "Love you!" or a reminder to the community to spread kindness wherever you go! 
Spreading Positivity and Good News
Birthday yard signs rentals are not only fun, unique, and special, but it is a gift that touches more than just one person. Spreading positivity and the good news is important every year, but especially after a year of uncertainty and hardships. When you can't hug or celebrate with a loved one in person, the next best thing is showing your heart in another way. Celebration yard signs are a wonderful way to show you care. 
As neighbors and visitors are driving through neighborhoods and communities, a sign celebrating a loved one can bring a smile to a stranger's face. Yard greeting signs provide so much more than a display of affection. Yard greetings can spread light in dark times. The world can be lonely even during normal times. Make someone in your lifeless lonely with a beautiful, fun yard sign.
Why Choose Yard deSIGNS, LLC 
Yard deSIGNS, LLC is family-owned and available in many different locations, all around the United States. From Kansas City to Arizona, we provide customized greetings to be set up in your yard or your loved ones' yard with countless possibilities to celebrate any and all special occasions. 
Not only are yard signs customizable, but they are easy and efficient! Our team delivers, sets up, and removes the signs for you. All you have to do is order and enjoy.  Celebration yard signs are a way to show people you care. What are you waiting for?  Start extending your love and care today!