Show Your Love and Appreciation With Yard Sign Rentals 
Is there a special occasion or milestone coming up? Finding the perfect gift can be a challenge, but at Yard deSIGNS, we have the ideal solution! Our yard sign rentals are meant to spread love, joy, and happiness to everyone who sees them.
How Do I Rent a Yard Sign
Renting a Yard Sign is a breeze with Yard deSIGNS! We've streamlined the process to ensure simplicity and convenience for our customers. Whether you're celebrating a special occasion, promoting your business, or sending a heartfelt message, our user-friendly platform allows you to customize your yard sign with just a few clicks. Choose your design, add your personalized message, select your delivery date, and you're all set. It's that easy to make a big statement with Yard deSIGNS!
Choose Your Package
Yard sign rentals aren't just for birthdays! At Yard deSIGNS, we are here to help you celebrate every occasion. The first step in ordering is to choose the package that fits your event, whether you choose a standard package or one of our deluxe packages. Once you choose your package, get creative with all of our options!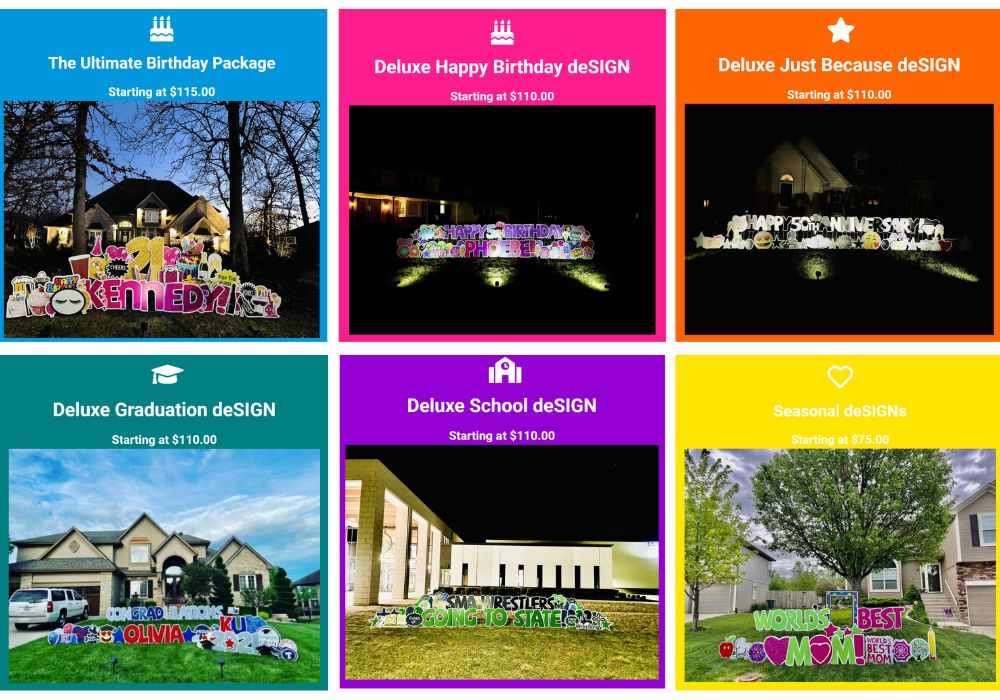 Providing us With the Details and Choose a Personalized Message
Now that you have selected the perfect yard sign rental package for your event, it's time to select your date and enter the address of where you would like your sign set. Next, enter the name and age of the recipient based on the package you chose.
Next, choose your message! Selecting a personalized message for your Yard Sign with Yard deSIGNS is where your creativity starts. Whether you're expressing birthday wishes, announcing a special event, or conveying a heartfelt message, our ordering process empowers you to make it uniquely yours. Whether you prefer something witty, sentimental, or eye-catching, the power to convey your message in style is in your hands. Our yard sign rentals let you express your love in a way that's as unique as they are. Yard deSIGNS is here to transform your ideas into captivating yard art that leaves a lasting impression.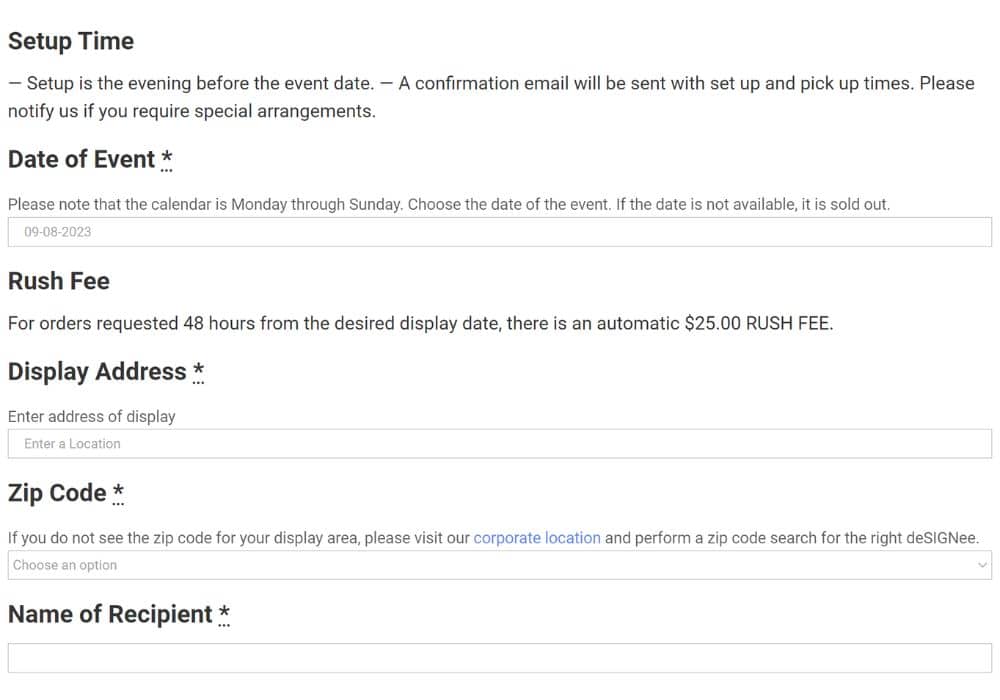 Choose Eye-catching Colors and Graphics
Our yard signs are more than just messages; they're a spectacle of color and graphics that will delight anyone who sees them. With a wide range of colors, design options, graphics, and enchanting lighting, our sign rentals create a magical atmosphere that spreads joy to all. 
Hassle-free Setup
Are you looking for something amazing that is easy, convenient, and stress-free to get your celebration started? Yard deSIGNs is the perfect fit! No need to worry about setup and takedown! Our dedicated sign slingers take care of everything so you can focus on enjoying the moment. Just tell us the location, and we'll handle the rest.
Why Choose Yard deSIGNS
Choosing the perfect gift for the hard-to-please or person who has everything just got easier! When it comes to selecting the perfect yard sign rental for your next occasion, Yard deSIGNS stands out as the clear choice. Our commitment to excellence in both design and service ensures that your message will shine. With an array of customizable options and top-quality materials, we offer the ideal way to turn your vision into reality. Our easy-to-use website simplifies the ordering process, and our timely delivery ensures your yard sign will be in place when you need it. Whether it's a birthday, graduation, business promotion, or any special event, we take pride in helping you make a statement that's impossible to ignore. Choose Yard deSIGNS and make your next celebration truly unforgettable.
Show your thoughtfulness with a unique and memorable gift that stands out from the crowd.

Let them know they are cherished and adored with a grand display of love and appreciation.

Make their special day unforgettable with our dazzling and eye-catching yard signs.
Spread the Love With Custom Yard Sign Rentals
Our yard sign rentals aren't just for close friends and family. Our yard sign rentals extend beyond just close friends and family; they're a fantastic way to spread love and happiness throughout your neighborhood, workplace, and local community. Whether you're celebrating a personal milestone or promoting a special event, our yard sign rentals have the power to make any occasion a delightful experience for everyone who passes by. Sharing your joy with neighbors, colleagues, and community members creates a sense of togetherness and positivity that's contagious. So, let's transform your celebration into a shared moment of happiness, making your message a source of inspiration for all.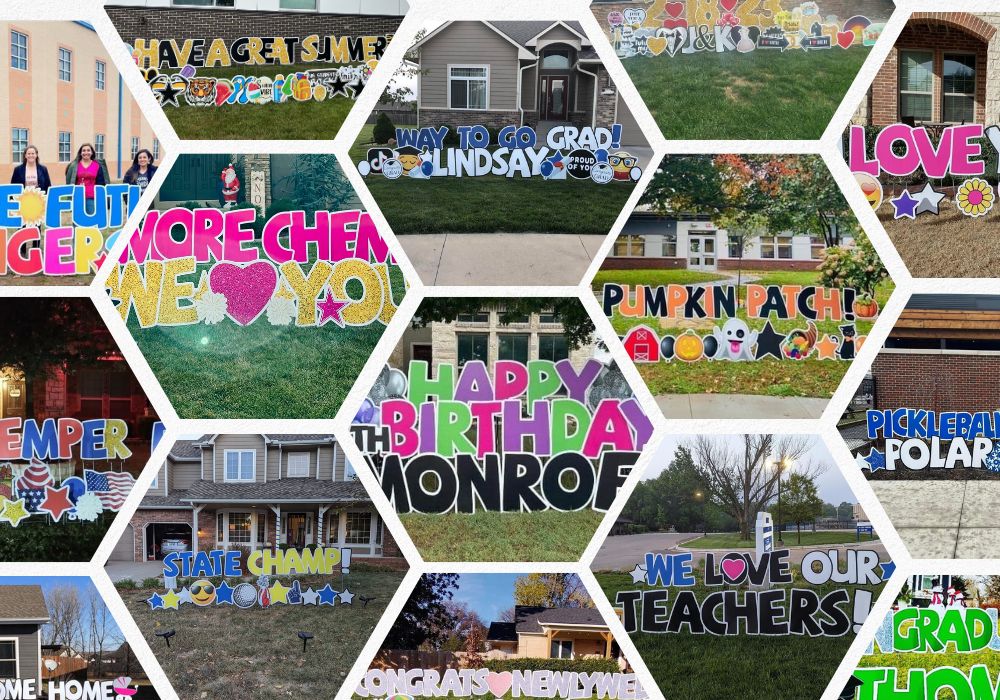 Order a Yard Sign Rental Now and Create Everlasting Memories
Choose Yard deSIGNS for an exceptional gifting experience! Don't wait! Order a yard sign rental from Yard deSIGNS now and create lasting memories. Our easy and efficient ordering process ensures that your message or celebration can be shared with the world in no time. Yard sign rentals have the power to make the moment unforgettable. Let your creativity flow, customize your message, and watch as your personalized yard sign rental becomes a symbol of cherished memories for years to come. With Yard deSIGNS, you're not just ordering a sign; you're crafting a lasting memory that will warm your heart and the hearts of those who see it. Make the celebration truly unforgettable by reserving your yard sign today! Do you have questions? Contact us today!