October is Breast Cancer Awareness Month, and Yard deSIGNS is here to help raise awareness and rally behind women everywhere. In 2021, research estimates there will be a diagnosis of 280,000 new cases of invasive breast cancer in women in the United States. 
"Being a survivor now, I realized I was not educated or aware about what breast cancer actually was and how it impacted and affected people." – Patryce Sheppard, a Breast Cancer Survivor. 
In the following article, Yard deSIGNS will discuss the disease and give insight into causes, prevention, ways to build awareness, and how to celebrate life after diagnosis. From simply talking about the disease more and getting mammograms, raising money for treatment and research, and customized yard signs to celebrate life.  There are numerous ways to support the cause. 
What is Breast Cancer? 
Breast cancer is a disease where the cells in the breast grow rampant and out of control. Cells are basically the building blocks that make up tissue, and cancer starts in cells. However, in some cases, the cell growth process goes awry, new cells form even when the body does not need the new cells, and the build-up of cells can form a mass of tissue, resulting in a growth, lump, or tumor. 
Breast cancer occurs when malignant tumors develop in the breast.  The cancerous cells can then spread throughout the body, a process called metastasis. One of the most common questions, if not the most common question, asked is what causes breast cancer. While some women with known risk factors (like breast cancer history in the family) are more likely than others to develop breast cancer, there are no known causes of the disease. 
Prevention
Some risk factors, like breast cancer history in the family, cannot be prevented, but there are lifestyle changes you can make to lower your risk of developing breast cancer. For example, limiting alcohol intake, maintaining a healthy weight, regular physical activity, and breastfeeding are all changes that research has shown can lower the risk of breast cancer, even those at high risk.
Early Detection
Did you know that when breast cancer is detected early, and the disease is still in the localized stage, the 5-year relative survival rate is 99%? That's right! Be vigilant with monthly breast self-exams, scheduling mammograms, and regular clinical breast exams.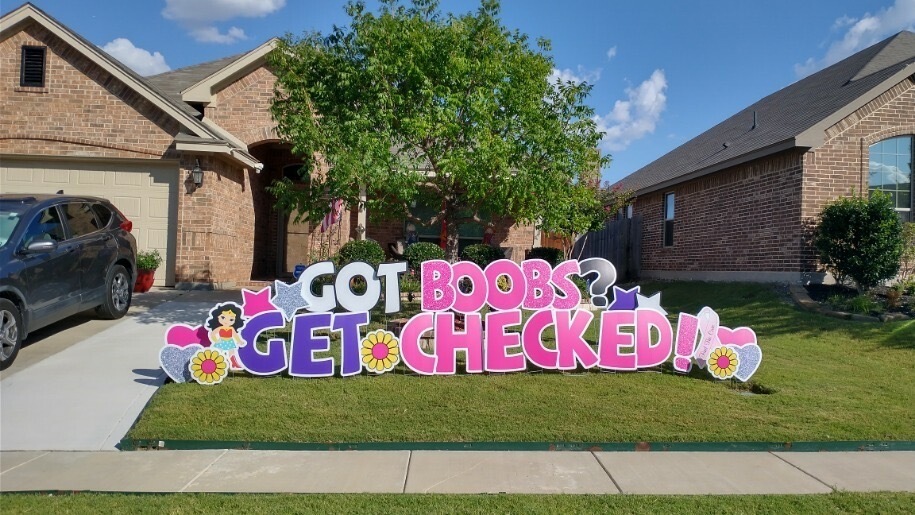 Yard deSIGNS is here to help take the stigma away from talking about breast cancer and reminding your family and friends to schedule their mammograms. Raising awareness of the disease is vital for women everywhere. Awareness not only encourages being proactive in getting breasts checked regularly but also makes those who have a diagnosis of breast cancer feel less alone.
Raising Awareness with Customized Yard Signs and More
So, what can you do to raise awareness and show support? Below are five ways to celebrate and honor Breast Cancer Awareness month, and Yard deSIGNS is here to start off the list with our customized yard signs. 
Customized Yard Signs
Our yard signs are not only meant to wish people happy birthdays and celebrate special occasions, but our customized yard signs can help bring awareness to important causes in a big way. Raise breast cancer awareness in your neighborhood with our customized yard signs from Yard deSIGNs. We bring the sign right to you, set it up, bring the smiles, and then tear it down when it is time!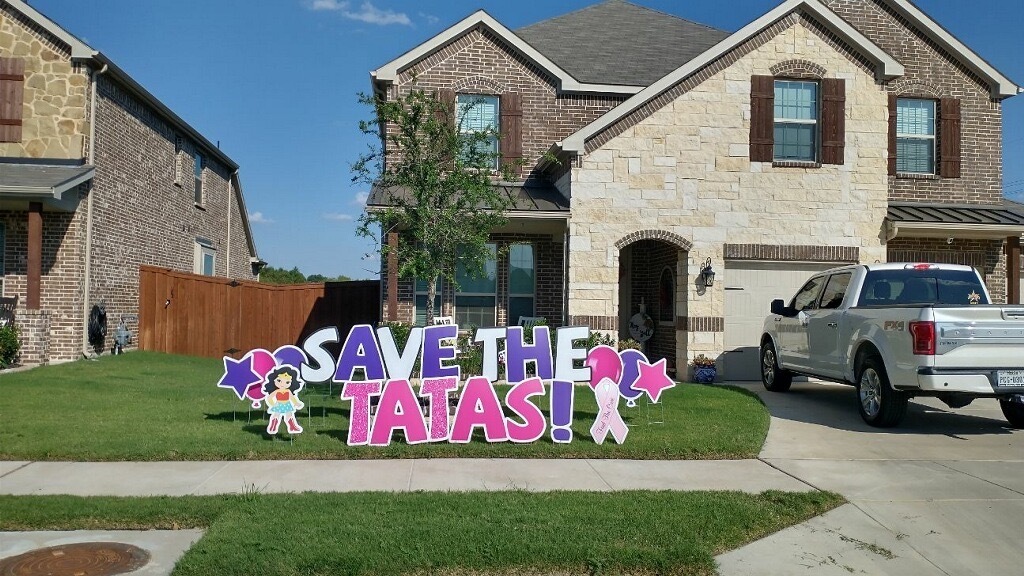 From Relay for Life to driving cancer patients to and from appointments and so much more, check out all the different ways you can volunteer on their website. Additionally, make sure to research and check out your local organizations for opportunities to contribute your time!
Wear PINK
The pink ribbon is the international sign of breast cancer, and wearing pink is one of the easiest ways to show support for those fighting the disease. Get creative this October! Gather your close friends and family and deck out in pink to bring a smile to the world around you while also raising awareness. You never know who you could touch by just wearing pink. 
Share a photo of you and your loved ones decked out in pink to your social media. Then, tag others to start a chain of photo sharing, encouragement, and love for women everywhere.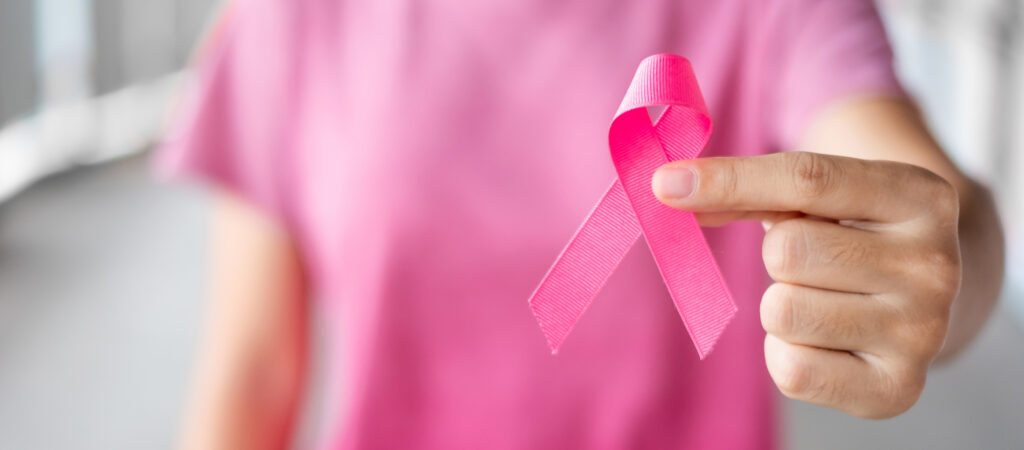 Create a Fundraiser
Take matters into your own hands, and start your own fundraising campaign to raise money for breast cancer research this month. Having a lemonade stand, a yard sale, or other DIY events can bring awareness to the disease and celebrate those who have been affected. Show love and support with a fun fundraiser and a customized yard sign to bring attention to your event! 
Know the Facts
Lastly, know the facts about the disease. Educate yourself with the key information about breast cancer to be a knowledgeable source for those who are not as informed. Encourage your loved ones to get checked regularly and to schedule mammograms.
Most importantly, shower the people around you with love and support. One of the best ways to show support to those fighting the disease is to celebrate the life and time we have! Rally behind your loved ones and women all around the world battling breast cancer during the fight and after the fight has been won! From just bringing a smile to people's faces around the community with customized yard signs to volunteering at local organizations in your area, get involved today.