Throwing an outdoor party can be a great way to bring people together and enjoy the fresh air. Whether it's for a birthday, a special occasion, or just to celebrate the spring or summer seasons, outdoor parties have the potential to create lasting memories and experiences. With the right planning and decorations, you can ensure that your next outdoor event will be an unforgettable one.
How to Plan For a Memorable Outdoor Party
Planning an outdoor party can be tons of fun, and it's a great way to bring friends and family together for a unique celebration. From the décor to the activities, there are lots of things that you can do to make your outdoor party memorable.
If you are trying to find fun ideas for your next outdoor event, here are some tips that are sure to get your guests talking.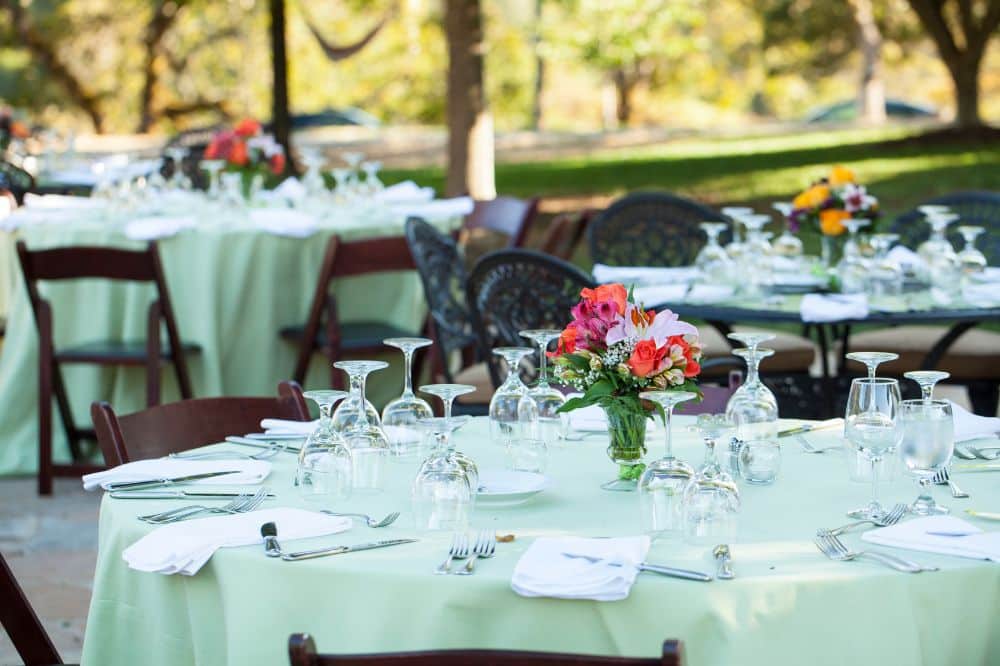 Pick Your Outdoor Party Theme
Planning an outdoor party is a great way to create a unique celebration that all your guests can enjoy. When it comes to selecting a theme, you'll want to choose something that will set the mood and bring out the atmosphere of your event. Maybe you want a "backyard BBQ" feel or an elegant dinner under the stars – whatever theme you go with, keep it consistent across all aspects of the party. This will give your guests something extra special to look forward to!
Here are some popular themes you could consider for your next outdoor party:
Garden Party:

With this theme, decorate with potted plants and fairy lights, serve up tea sandwiches and lemonade, and play some classical music in the background.

Casino Night:

Get a feel for Las Vegas right at home! Decorate with colorful neon lights and casino-themed props, provide game tables like blackjack or roulette, and serve up tasty finger foods like chips & dip or mini tacos.

Farmhouse Fun:

Go rustic with hay bales, mason jars filled with wildflowers, country music playing in the background, and some down-home barbecue dishes.

Movie Night:

Create a drive-in-style experience at home! Hang up strings of white twinkle lights around the yard, pop popcorn for everyone to munch on during the flick, and don't forget about comfy blankets for cozy seating.
No matter what kind of theme you choose for your outdoor party, make sure it suits the tone of your event!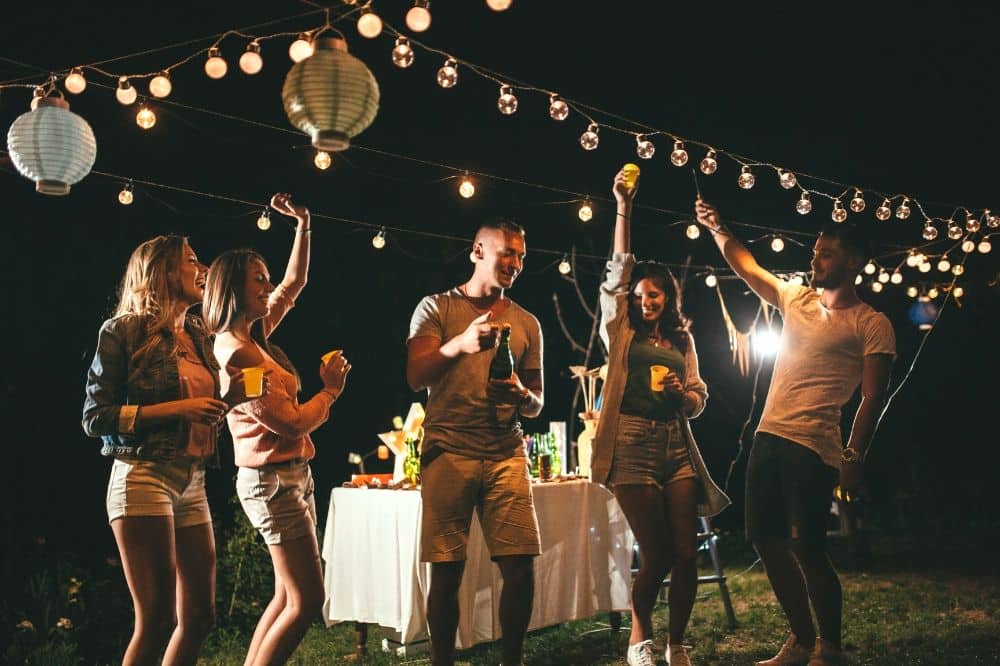 Decorating for Your Outdoor Party
Next, think about how best to take advantage of your outdoor area. If it's a large yard or garden with lots of trees, create cozy seating arrangements with chairs and tables spread throughout to encourage mingling amongst guests. String up lights between trees for enchanting illumination as dusk falls. If trees aren't available, suspend string lights from above for a similar effect — just make sure they have safety clips if using outdoors!
Don't forget the furniture detailing! Outdoor pillows that match your chosen color scheme are a fantastic way to add comfort and vibrancy to any seat arrangement. Gauzy fabric strung up in treetops adds even more magic for nighttime parties where light streaming through gauze creates a dreamy ambiance.
Finally, don't skimp on decorations — all those little details will help set the tone for your outdoor gathering and make your guests feel extra special! Candles on tables to add a warm glow, floral wreaths hung in obvious places like entryways or fireplaces are a great addition (don't forget mosquito repellent if needed!). Beautiful flower arrangements add vibrant bursts of color around specific areas like tablescapes or doorways, and of course, a celebration yard sign by the Yard deSIGNS will point the way to the party and give everyone a fun backdrop for pictures!
No matter how big or small your gathering is, let yourself get creative with decorations when planning an outdoor party — it will pay off!
Don't Forget the Entertainment
Outdoor parties are a staple when it comes to sharing time with the people you care about! So, if you are looking for ideas to make your next outdoor event the best yet, don't forget the entertainment. From games to activities, here are some of the best types of entertainment for an outdoor party that will ensure your gathering is a hit.
Music
Whether you're setting up a sound system or making use of portable speakers, music always adds an upbeat energy to any outdoor party. Incorporate a variety of genres and mix it up with occasional fast-paced songs for those moments when everyone needs a bit more energy!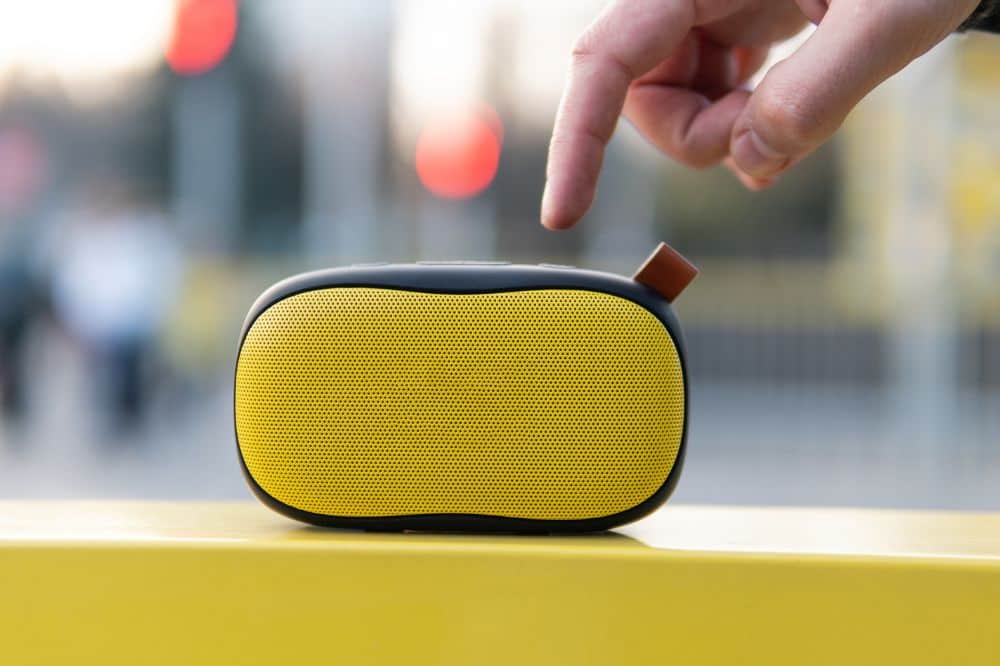 Outdoor Games
There are endless options when it comes to outdoor games, from classic lawn games like cornhole to newer versions like washer toss. Set up several stations and let your guests choose their favorite activities or enjoy them throughout the day.
Cornhole: 

A classic lawn game that involves tossing bean bags into a hole in a board.

Bocce Ball: 

A game of strategy that requires players to use small balls and attempt to get them closest to the target ball.

Ladder Toss: 

Players take turns throwing bolas (two connected balls) at a ladder-like structure, with the goal to get it to land on one of the rungs.

Washer Toss: 

Players toss washers into a box divided into four parts with the goal of getting them closer to the center opening of the box than their opponent.

Giant Jenga: 

This classic game is a supersized version of Jenga explicitly made for the outdoors! Giant Jenga is sure to be a blast and bring tons of laughs!

Food Contests & Competitions: 

Get creative with food competitions such as hotdog eating contests or cupcake baking challenges that get everyone involved in friendly competition – just make sure someone volunteers to be the judge!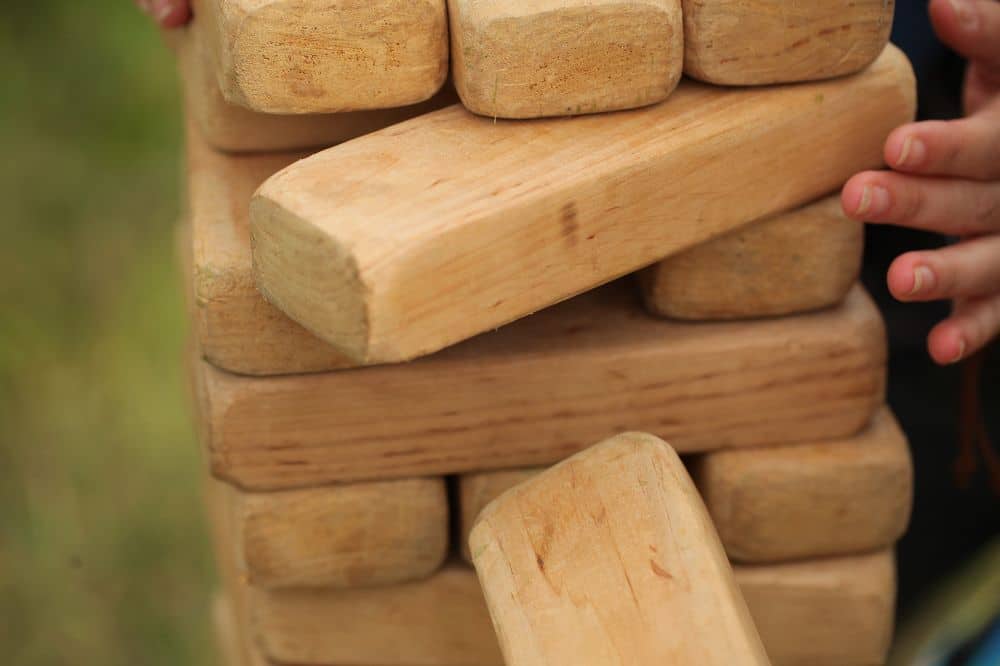 Bonfire/Campfire
Who doesn't love sitting around a warm fire on a cool night? Set up supplies so guests can roast marshmallows and make s'mores while enjoying each other's company late into the evening.
Arts & Crafts
Bring out the creativity in your guests with hands-on arts and crafts projects they can take home as treasured keepsakes of your celebration. From tie-dye t-shirts to painting stones and feathers, there is no shortage of ways to provide lasting memories through artistry at your party!
Movie Night
Gather around a big screen (or projector) in the backyard and show off some classic movies or even modern blockbusters for hours of entertainment under the stars!
No matter what type of entertainment you choose for your outdoor gathering, having fun should be priority number one for you and all your guests! Put these ideas into action at your next party to create an unforgettable experience that will leave everyone talking about it long after it ends!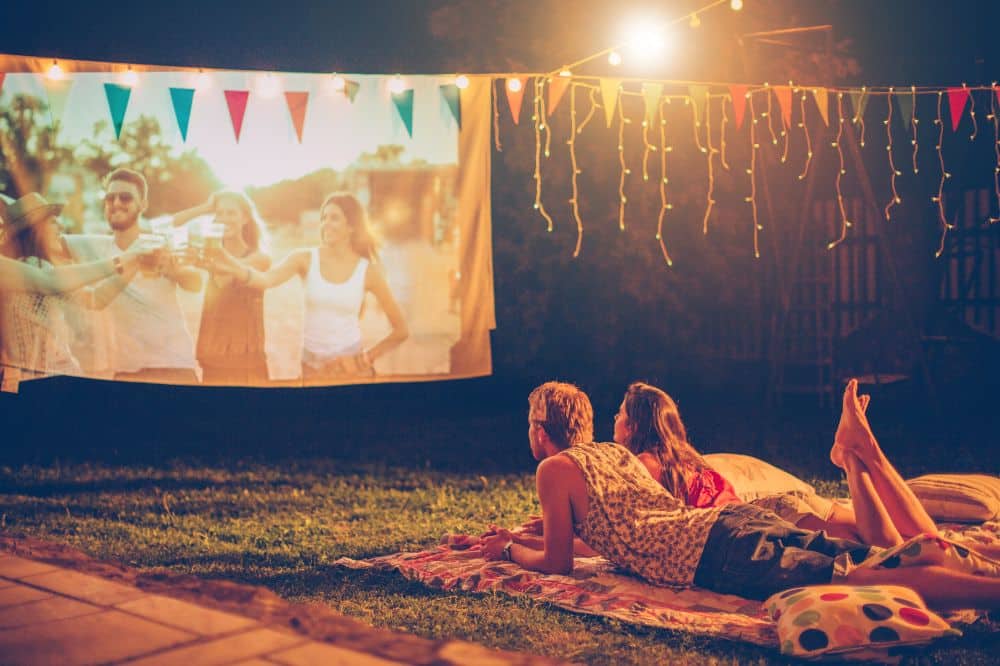 Popular Food Options for an Outdoor Party
Are you looking to host an outdoor party? If so, you're probably wondering what food items are best suited for a fun and enjoyable gathering. With this in mind, here are some delicious and easy-to-prepare foods that will make your outdoor party a success!
Grilled Fajitas
These flavorful Mexican-style dishes are always a crowd-pleaser. You can marinate chicken or beef with garlic, lime juice, salt, and pepper and grill it along with peppers and onions for plenty of flavor. Serve with warm tortillas.
Chips and Homemade Salsa
A bowl of chips is always welcome at any gathering, but why not amp up the flavor with homemade salsa? Simply chop tomatoes, jalapenos, cilantro, and onion. Then, add a bit of garlic, lime juice, and salt for the perfect bite!
Fruit Kebabs
Let's give your guests something healthy too! Alternate chunks of fresh fruit on skewer sticks to create colorful kebabs they'd be happy to enjoy on a hot summer day. Pineapple, watermelon, kiwi, and strawberries; you can use whatever fruits are in season.
Veggie Platter
For those who prefer their dishes on the savory side, a vegetable platter is sure to please any guest. Add favorites like carrots sticks, cucumber slices, or bell pepper strips to make a visually appealing dish that everyone can enjoy. Serve with ranch dressing or hummus for dipping.
Grilled Vegetable Skewers
Take your veggie platter up a notch by grilling vegetables before adding them to skewers along with cherry tomatoes for some added sweetness. A light seasoning of olive oil, minced garlic, and herbs will complement flavors perfectly!
BBQ Sliders
Nothing says "outdoor party" quite like burgers served from the BBQ pit! Choose from beef patties or experiment with different fillings like turkey or veggie burgers for something unique. Serve on mini buns with all the fixings for a delicious meal everyone would love!
S'mores Bars
Who can say no to dessert when there's s'mores bars around? Make your own version by layering graham cracker crumbs in the bottom of an 8×8 pan, then topping it off with melted chocolate chips infused with marshmallows, then bake until bubbly perfection is achieved! Cut into squares and serve while still warm for the perfect ending to any outdoor party!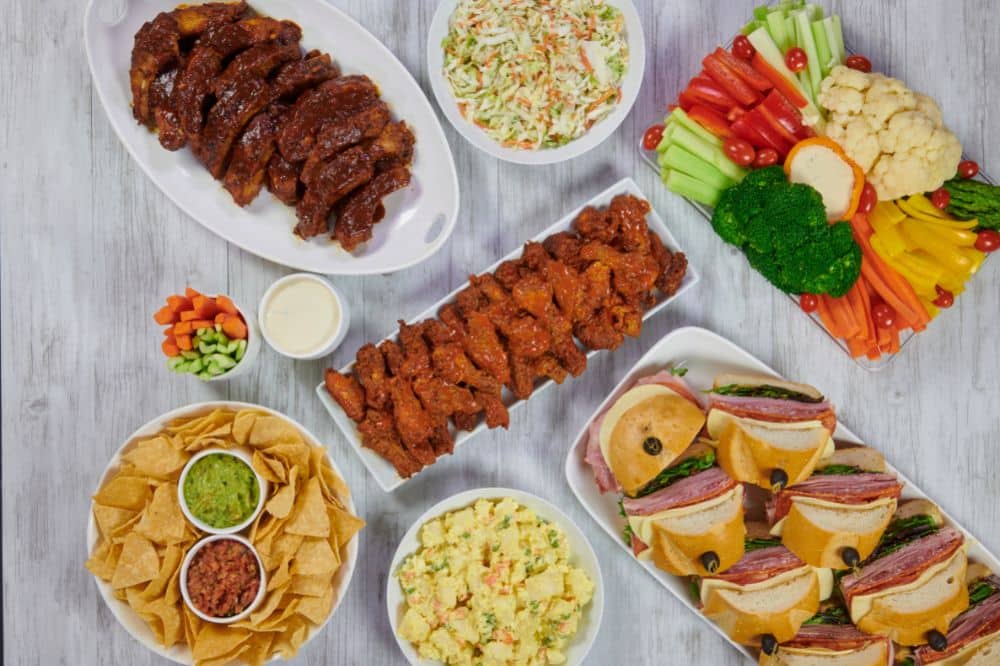 Wrapping Up!
Hosting an outdoor party can be a great way to enjoy time with friends and family or just relax and enjoy the natural beauty of your surroundings. Whether you're throwing an intimate garden soiree or a grand affair in the park, outdoor parties offer something special that sets them apart from their indoor counterparts. When planning your event, keep safety in mind – provide shade for guests in sunny areas, watch for hazards like fire ants and poisonous plants, and plan ahead for weather changes. And, don't forget your Yard deSIGN! Your outdoor party will be one that everyone remembers!